Amalfi Coastlines Are Italy Dream Lines
Winding roads or lapping waves - enjoy a ride along the famous Amalfi Coast.
By Larry Larsen
Postcard dreams come to life along the Amalfi Coast off the Gulf of Salerno about an hour's bus ride south of Naples, Italy. A tour boat ride from Salerno to Amalfi leaves most visitors yearning for more time in the area. Even a day split between the water and the cliff-hugging villages is not long enough to enjoy the ambiance of this scenic respite. Sure, the area is famous and there are crowds of visitors, but you can still find quiet places in this quaint destination along the gorgeous shore side mountains and cliffs that are not yet over-commercialized.
Fishing villages, hamlets and seaside accommodations and services are tucked into the bluffs, gorges and hillsides strung along the coastline. The nature-sculpted Dolomitic cliffs often tower straight up out of the sea in unforgettable shapes.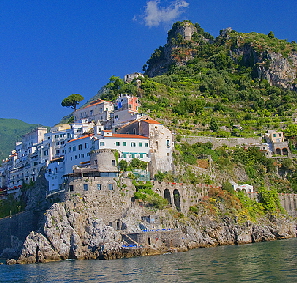 The beautiful town of Amalfi at the mouth of a huge gorge has a few narrow, shop-lined streets winding about the mountainside. Its main square Cathedral, built in 937 A.D., features a unique grand stairway leading to a beautiful byzantine facade. The maritime village was a major shipping port in the Middle Ages and of course the shoreside today still offers interesting views for photos and relaxing ambiance.
The Amalfi Drive, east of Sorrento is reportedly one of the most spectacular roads in Europe stretching along the mountains of the Salerno Coast. Sorrento itself is a quiet resort center amid beautiful cliff-side gardens with spacious views. It is known for its attractive wood inlays and lace work. A drive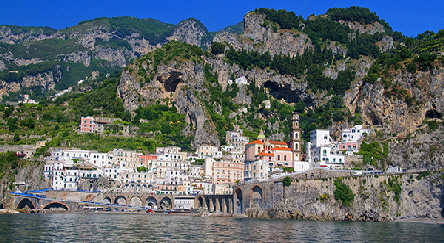 along these winding coastal roads prepares you for the experience, but when I go back, I'd prefer to stay a few days on shore to fully live the good life that seems so available there.
Cruise ship passengers only get a day in the Naples port and it's often a combo of Amalfi Coast and a visit to the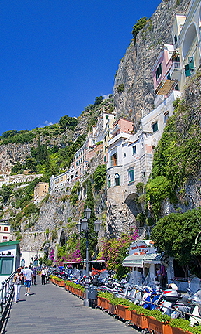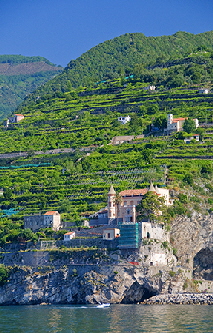 famous ruins of Pompeii. It's a lot in one day but the short "taste" of this beautiful area is enticing for a return with more time to explore.
Editor's Note: You may also want to include a side visit to the ruins of Pompeii (which was destroyed by the eruption of Mt. Vesuvius 1,900 years ago) and walk the dusty cobblestone and rocky streets exploring the grounds, artifacts and archaeological treasures.