Explore the Amazon via Mobile App
Want to know more about the unique environments and qualities of the Amazon Basin and its fisheries, activities and peoples? Want to learn about the pink dolphin, Indian tribes, freshwater stingrays that cover the bottom, and/or the truth about piranhas, mosquitoes, jaguar, and anacondas?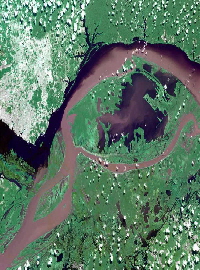 Outdoors travel writer and photographer Larry Larsen has just released a new photo-intensive mobile app that is formatted for both Apple and Android tablets and mobile phones. To illustrate the app, Larry provides 859 personal photos from his more than 500 days in the Amazon jungle basin. There are 238 entry topics in this app that cover the 8 countries and 2.7 million square miles focus on many of the major tributaries and smaller ones that are productive fishing spots.
The Amazon is the largest river in the world in terms of water volume and has over 15,000 tributaries and 3,000 species of fish - about one-third of the world's total.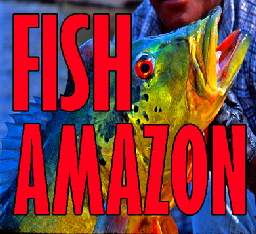 While the app is titled, "Fishing the Amazon Guide", it is also focused on the water and jungle environments, including river commerce and traffic, Indian and indigenous peoples and their culture, and river towns and villages themselves. It is a true guide to anyone boating or visiting the remote regions. The app, released by publisher Sutro Media, shows anglers how to catch exciting peacock bass and a dozen other trophy fish species in the Amazon, as well as where to find the best tributaries.
For the Amazon traveler, this app provide detailed tips on timing the wet and dry "season", trip planning and booking, preparation, exploring, wildlife viewing, safety and much more information. They will learn about the fishing tour operations and facilities, optimal resources and vital water characteristics. The reader/viewer of this app will discover how to enjoy the beautiful jungle waters while enjoying the overall Amazon adventure in order to return home with fond memories that will last forever.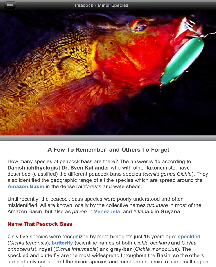 Four of author Larry Larsen's 21 books (for example, Amazon Peacock Bass Fishing and Peacock Bass Addiction and Peacock Bass and Other Fierce Exotics) and more than 300 of his articles appearing in print and electronic magazines are on fishing and exploring the Amazon.
His "Fishing the Amazon Guide" app, published by Sutro Media, is available online at Apple/itunes and Android/Google Play stores for just $9.95.