those mechanical ones outside a store. Once, on a beach vacation, I walked on my own to a nearby stable and went riding without my parents' knowledge. They frantically searched for me, and when I showed up several hours later on a horse, they understood my passion, so I didn't get punished ... too much!

I was able to afford my first horse in my early 20's, and since then I've owned four. But even with my love of horses, I had never been to a dude ranch. We picked the Bar Lazy J Ranch because it also offered fishing (for my husband, who will not get on a horse to save his life). I didn't really know what to expect, and I was a little skeptical because after owning your own horses, nobody else's typically stack up.
Upon our arrival, we were greeted by owners Cheri and Jerry personally, something I did not expect. It immediately made us feel very welcome and much more comfortable with the surroundings. Our car was left at a nearby parking area away from the main ranch lodge and cabins, and our luggage was taken to our cabin. The comfortable cabin included a king bed and a twin (most cabins offer several beds to accommodate families with children). A scenic screened porch faced the Colorado River just a few feet away. No phones, no TV, great!
On a table was a guest book with entries by previous families who had stayed in the same cabin dating back 10 years when the Helmickis purchased the ranch. There was also the guest list for the week, with their city of origin, which made it much easier to strike a conversation at dinner. A list of the dude ranch staff and their various roles was also available in the cabin, with a complete list of activities scheduled for that week. I had already seen their pictures online. The barn staff pretended to look like a serious bunch of western cattle rustlers that you don't want to mess with, but in reality, they were the most patient and enjoyable individuals that you can find on a horse that side of the Mississippi!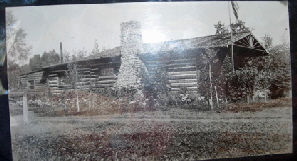 After we unpacked, we joined the welcome reception to meet the other guests. This was the only time that alcoholic beverages were served, but you are welcome to bring whatever you want to drink. The cabins are stocked daily with fresh ice in an ice chest on the front porch. While waiting for dinner, I explored the interior of the main lodge. The original fireplace was the centerpiece, and here were several other large guest books dating back to 1912. I learned that the first time the original family decided to promote the ranch (back then called the "Buckhorne") to guests, it was by invitation only. They hired a debutante as their social secretary, and only selected guests, or those with a reference, were accepted.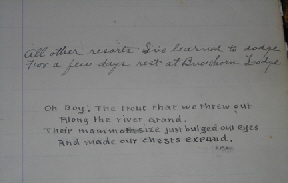 Reading the guest books and seeing the faded photographs dated from 1917 to 1945 really brought home the sense of hospitality this dude ranch has enjoyed. It's no wonder that it's the oldest, continuing operating dude ranch in Colorado, and it has had only six owners since 1912. The photos depicted a very formal atmosphere for those times. Polo games were played on the lawn in front of the main guesthouse and elegant meals were served. Servants and nannies came along, and after taking care of their particular families, they retreated to their small accommodations. Some photographs depicted one of the families during their beach vacation in Havana, Cuba!

While the original ranch offered tent accommodations, 12 small log cabins were eventually built. Each of the main cabins was built for a specific family, with a smaller cabin adjacent to house the servants. The cabins were named for a local fishing fly or wild flower, and those names still remain today.
In 1952 the ranch was renamed as Bar Lazy J and has remained with that name since then. Current owners Cheri and Jerry Helmicki have certainly enhanced the warm hospitality that has created one of the most popular dude ranches in Grand County, Colorado.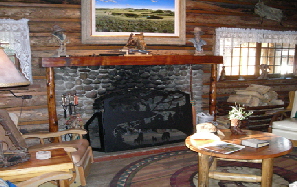 The location of the Bar Lazy J Ranch is ideal, just a few miles southwest of Rocky Mountain National Park in a peaceful valley along the banks of the Colorado River. With a capacity of 42 guests, you are assured very personal service, just like in the old days. In just a day or two, it's a place where everybody knows your name.
The dude ranch has a fascinating history. Despite some modern comfort items added to the original lodge and cabins (indoor plumbing, space heaters, screens on the front porch), everything possible has been done to retain the look and atmosphere of the old West. So dress accordingly! Boots (they will be loaned to you for the week if you don't have the right type), jeans, chaps and cowboy hat are definitely the required dress code, or you will feel out of place. Thank goodness I brought my leather chaps, at least I looked the part (I think!).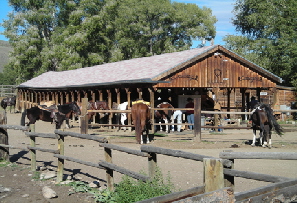 Families are attracted to this ranch due to the extensive children's schedules. Children 3-7 (Buckaroos) are not assigned a horse but they learn basic horsemanship and are led around in the corral. Children 8-12 (Range Riders) are assigned a horse of their own. A "crew" of at least five counselors organize week-long activities including grooming clinics, horse instructions, basic horsemanship, crafts, contests, panning for gold and much more. It sounded almost like more fun than the adult program!
Early each morning, the wranglers lead the herd of over 70 horses from a nearby pasture to the corral. The sound of their hooves is often the wake up call, but just in case you miss it, a large dinner bell will tell you that you have 30 minutes to get ready for each meal.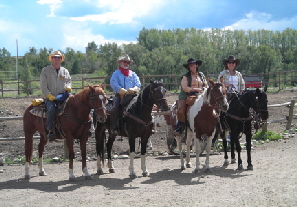 The job of assigning horses to the riders is primarily Cheri's. She knows the name and the particular characteristics of each horse, and the staff takes pride in the caliber of their herd. Your horse is assigned for the week based on your perceived level of horsemanship. Even repeat guests go through this process each year. I was assigned a stocky black gelding named Wrangler. I was happy with him, he didn't really want to lope and I didn't either. I prefer cross country riding than running, and we got along just fine.
The riding program was progressive, and includes a great deal of personalized riding instruction throughout the week. This was great for me, since I have never taken formal riding lessons. I enjoyed the tips given by each wrangler and by Cheri during our rides. The first morning involved getting to know your horse a little by riding in a small corral, then taking the horse up a nearby hill for a two hour ride. Two rides are scheduled each day, and with each ride, the riding difficulty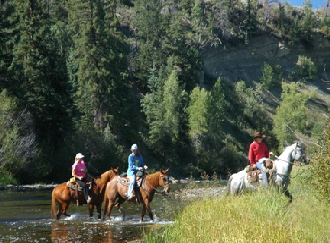 increases as the wranglers review the ability of each rider and the riders become more comfortable with their horse. Within the week you can progress from scenic all walking rides, to moderate which includes some trotting and loping, to the advanced where there are longer stretches of trotting and loping covering more adventurous terrain.
The ride choices are innumerable. Most are within the Arapaho National Forest, so just a few minutes away from the ranch you can quickly forget that you're in the 20th century. The hills stretch out all around the riders and there is very little evidence that civilization is just a few miles away. The quiet, scenic rides were my favorites. And it was obvious that the staff was very happy to please all riders whenever possible. Schedules were flexible and each ride was tailored to whatever the group preferred. In addition, several interesting themed rides are offered every week.
Themed Rides
The Spa horseback ride is offered one day a week, in addition to the regularly scheduled rides. After packing a lunch in the morning, riders start up the Parshall Divide, stopping for lunch at the top of Byers Canyon. From there, the trail takes you into the town of Hot Sulphur Springs to soak in the Colorado mineral springs discovered by the Ute Indians. The horses are trailered back home while you soak your sore bones in the hot mineral waters. What a way to enjoy the best of both worlds!
It couldn't be called a dude ranch without a cattle drive, so if you're so inclined, you don't want to miss the experience. You will mount up and head into the hills for a four hour ride to gather and drive a herd of Texas Longhorn Cattle. Along the way, you will enjoy the beautiful Colorado scenery of the Gore Range, the Williams Fork Mountains, and the Continental Divide.
On Wednesdays, you're typically on your fourth day of horseback riding. By then, you are ready for an all walking breakfast ride led by Cheri and Jerry. You will get to cross the river on horseback and will unsaddle at a campground where the Chef and kitchen staff will serve up a hearty Colorado breakfast. After breakfast, additional rides are offered as usual.
I fully expected the dude ranch experience to include saddling & unsaddling the horse and brushing him. I was sadly mistaken. Everything is taken care of by the ranch staff (although a couple were open to the idea of getting some help). I guess this is what happens when you have your own horses, you get used to doing it all! At this dude ranch, if you're not riding, you're eating, sleeping or fishing. Work is not for the guests.
Fly Fishing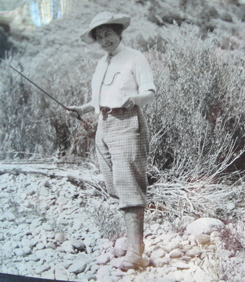 Simply walk 30 feet out your front door and you will encounter the Colorado River. Nearly one mile of beautiful, scenic river flows over small boulders - this area is designated Gold Medal Fishing (all catch & release) and historically offers some of the best rainbow and brown trout in the State. Not only is it a challenge for the "old time" fisherman, it is great fun for the family, beginner or in-between. The ranch schedules a free fly fishing clinic at the beginning of the week for anyone interested in learning more about fishing that stretch of the Colorado River.
If you prefer to use waders, some are available on site. A fly fishing guide service is also available throughout the week to take you out for the day during your vacation. If you don't want to work so hard to catch a fish, the dude ranch has its own stocked trout pond. These are trout you can keep and have the chef cook for dinner! If all you want to do is sit and enjoy the river, and rest your bottom after a day's ride, simply pick one of the many swings strategically placed along the shore. I should have brought my hammock!
Meals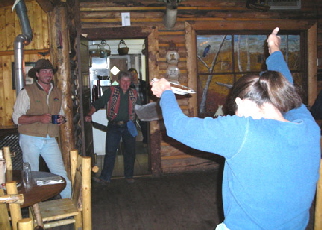 All meals are included in the cost of your stay. Most meals are served in the historic lodge. Lunches are buffet style on the dude ranch's screened-in river porch, which overlooks the Colorado River. One lunch was an outstanding barbecue of t-bone steak or salmon with salad, vegetables and homemade desserts.
Calories do not matter here, because you burn them each day during your horseback ride or fishing! Entrees are accompanied with homemade breads, pastries, and desserts. Breakfast and evening meals are served in the main dining room. For fun, Cheri hosts and cooks the blueberry pancake breakfast once a week. This means, you have to yell "blueberry!" when you're ready, and then you have to catch the pancake in the air as she tosses it from the kitchen door. You do get another one if you drop it, I found out.
Amenities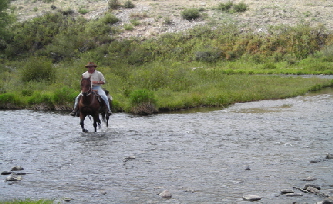 If peace and quiet are not enough for you, then bring your swimsuit to enjoy the outdoor pool and hot tub. A full range of books are in the library in the main lodge. If you didn't know enough to bring your own drinks you have free access to the drinks available in the kitchen (when the chef is not working). If horseback riding each day or fishing is not enough, the ranch also schedules jeep rides, bike rides, horsedrawn wagon rides into town and other more sedate activities.
At the end of the week, the group enjoyed some entertainment by the fire pit and the opportunity to have the Bar Lazy J branded on any leather item. My chaps now proudly display the mark of my first dude ranch adventure. On stressful days, just the thought of our week-long stay puts me back in a calm mood. Most definitely, an experience to schedule again soon.
In 2013, Bar Lazy J was voted one of the top 5 Best Family Ranch and Best Ranch Hosts in the Nation and Voted the #1 Fly Fishing Ranch in the Signature Ranch Awards! For more information, contact Cheri and Jerry Helmicki, Bar Lazy J Ranch, P O Box N, 447 County Road 3, Parshall, CO 80468; phone 800-396-6279 or visit their website at www.barlazyj.com. E-mail them at barlazyj@rkymtnhi.com.