Barcelo Maya Palace Shines in the Riviera Maya
In this economy, getting the most bang for your buck is vital to many. Value is a key ingredient in most travel choices, and the Barcelo complex of all-inclusive resorts in the Riviera Maya area, an hour or so south of Cancun, should please the most discriminating and experienced traveler. Upon arrival at the resort, you'll quickly note the large expansive lobby opens up to a fabulous view of a private 2-mile long beach shared by all the resorts. Numerous palm trees offer a beautiful beachscape and ambiance, and plenty of shade for sun worshippers.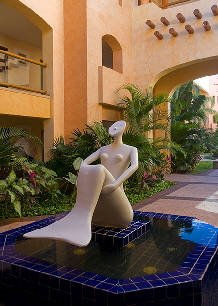 The Barcelo complex is comprised of five resorts, each with its own theme and budget level. The landmark property is the Barcelo Maya Palace and our favorite, not only because it is their "high-end" resort, but because its facilities, service staff and amenities made our recent stay there most enjoyable.
We recommend booking the Club Premium level at the resort which guarantees an ocean front view from your terrace or balcony and access to the private Club Room whose amenities include internet-connected computers, comfortable lounge with widescreen TV, upgraded liquors and snacks throughout the day. Your private concierge is immediately available in the Club Room to help you with anything you need without having to wait in line at the front desk.
All guest rooms are spacious enough to qualify as "suites." The expansive bathroom is particularly well appointed with a tub and separate open shower area (my next bathroom will be designed like this one!). A new king bed, two comfortable couches in a sitting area and a large balcony provided plenty of space to spread out and get comfortable. A ceiling fan, large flat screen TV, internet connection, stocked minibar and luxury amenities added to the wonderful experience.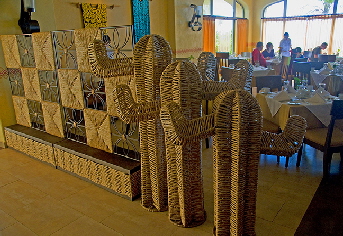 The all-inclusive resort restaurants met and even exceeded our expectations. Two indoor air-conditioned buffet dining areas are available for breakfast, lunch and dinner with a huge variety of Caribbean, Mexican and Spanish dishes (Barcelo Resorts is a Spanish chain). Even dining in the buffet restaurants was always a palette pleasing experience. Four additional "specialty" restaurants provide delicious variety along Oriental, Brazilian, Caribbean and French themes. Guests of the Maya Palace also have privileges at the restaurants of the other four Barcelo resorts in the complex. Reservations at the specialty restaurants there can be made by the concierge in the Club Room, and we found the other resort's restaurants to be excellent also.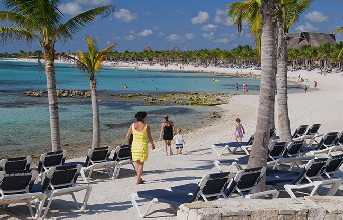 Each property has a giant, tropical landscaped pool that seems to meander through the resort. Hundreds of lounge chairs and even semi-private cabanas are spaced appropriately on the expansive pool decking interlaced with the beautiful gardens. For families with children, one of the highlights is the children's "mini" water park and play area. A large knee-deep pool with "Sea Snakes" and giant turtles as fountains and several slides will keep the kids entertained all day long – some adults also!
Numerous tennis courts, a par-3 golf course, non -motorized sports and a separate adults-only pool are also choices. At night, a large indoor-air conditioned theater offers performances of all kinds, from circus to Broadway. The Mexican Plaza in the center of the resort comples offers several kiosks with colorful local handicrafts and wares.

Not to Miss While in Riviera Maya
Several Mayan ruins are near the Maya Palace but we only had time for one. We chose the most popular – Chichen Itza – and we were not disappointed. Click here to read this article. Fishing can also be productive, and the area's largest marina is just 10 minutes away. Click the following: