Cruising the Mexican Riviera and Bahamas
By Lilliam Larsen
When I get assigned to review cruises to the Mexican Riviera and the Bahamas all within the same month, I make that sacrifice and do it. I know, it's a tough job. But what can I do?

Baja California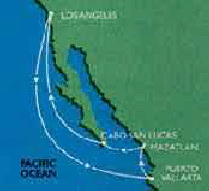 Carnival Cruise Lines operates a 7-day cruise from Los Angeles, which visits three ports of calls on the western coast of Mexico. If you like to spend time on a cruise ship eating, sleeping and sunning, then this is a perfect cruise. The Elation is one of Carnival's newer ships and, at first glance, a bit flashier than the older models. The cabins are spacious but do not include hair dryer or mini-refrigerators. In the winter months, it departs every Sunday, spends two days at sea, and arrives at the first port, Puerto Vallarta, on Wednesday.
After two days at sea, I was ready to arrive on land and take a shore excursion. You can only take so much food and entertainment anyway! Unfortunately, Puerto Vallarta is not the same as what I had seen on the "Love Boat" television show. There are several small and relatively inexpensive shops just off the ship, which made it quite convenient to spend a few dollars. But you must learn to negotiate fiercely! And take your time to look around - the same item may be $5 in one shop and $2 in another. The shore excursions were uneventful and, in general, I heard no exceptional comments regarding any of them.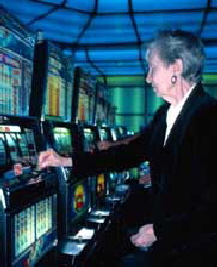 We docked at Mazatlan, our second port, on the following day. Again, a few shops just off the ship make it very easy to buy interesting Mexican pottery and clothing, but walking away from the area revealed a very dirty, ugly town where over-aggressive taxi drivers are constantly accosting you for business.
I was looking forward to Cabo San Lucas and snorkeling, which I was told was beautiful. The famous rock arches and the "beach of love" are a scenic welcome to the port. This area is under major renovation with additions to the marina and to luxury condominiums nearby. The specialty trips are "booze cruises" from the marina. These excursions start as early as 9 a.m. and continue right up until 30 minutes before the Elation leaves port.
I decided that snorkeling was the thing to do here, but boy was I disappointed! Not only was the snorkeling area a jungle of masks and fins, there was very little fish life and certainly no colorful corals at all. Despite the guides enticing a few fish with some crackers and other morsels, barely enough fish appeared to make this a worthwhile trip.
Service was average on board. Since one of my most frustrating moments on the cruise was being unable to get money from the ATM machine – I was told this happens frequently because the satellite transmissions do not reach the ship in Mexican waters. So, plan on taking sufficient cash with you.
The food on the Elation was not what I would call cruise-quality, however, our server was excellent and definitely made dining worthwhile. The all-you-can-eat sushi bar was also a favorite of mine.
Our return back to Los Angeles was the last day on the ship, and another full day at sea. OK, I may be complaining, but I have to admit that I would not recommend this itinerary for anyone except honeymooners. over-eaters or gamblers.
Bahamas
Carnival's Fantasy schedules 3-day and 4-day trips from Cape Canaveral to the Bahamas. My itinerary on the 3 -day trip included a visit to Nassau, Bahamas and a day at sea on the return. The layout of the Fantasy is virtually identical to the Elation, however, this is an older ship and it shows. It's not as flashy; the décor is a little more subdued and more to my taste. The general staff service was better and the food quality was also better than that on the Elation.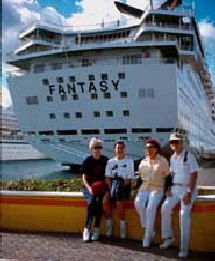 This is an excellent cruise for first-timers or for a quick weekend getaway. Nassau was cleaner and prettier than I anticipated, and its European heritage is still obvious in the architecture of many buildings. Spending a few hours browsing through the straw market and walking the main thoroughfares is easy, since they are within walking distance to the cruise ship's pier. The length of this trip wasn't conducive for me to plan an on-shore excursion.
If you like gambling, this is also a good ship to try your luck. The casino is much larger and more prominent than on the Elation, and bingo games are frequent. Due to the shorter schedule, it was virtually impossible to get to know any of the staff, as usually happens on longer itineraries. In the end, it seemed too short of a trip, but then again, this was my sixth cruise.
In general, the two Carnival cruises that I've experienced lead me to believe they are after the singles, gamblers, partiers, and couples with children. The Camp Carnival program received lots of favorable comments from the kids on each cruise, and this is probably one of their top selling features. For older married couples, I am sure some of their other ships and itineraries might be more suitable.