Celebrity's Solstice
This top-rated ship lives up to expectations
By Lilliam & Larry Larsen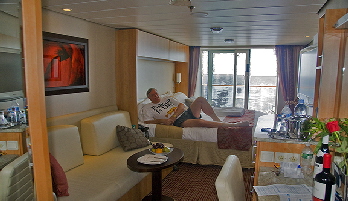 Any destination can be enhanced (or marred) by the type of cruise ship that you may select as your "home" during the itinerary. When we chose the 12-Day Mediterranean cruise, much of our decision was based on experiencing Celebrity's Solstice, one of the very highest rated large ships at 4+ stars by the Berlitz Travel Guide. Knowing the ship was one of our highlights on such a great destination cruise should confirm our happiness with the choice.
Our itinerary began in Barcelona with stops in Rome, Naples (Capri, Amalfi Coast and Pompeii), Italy; Santorini and Mykonos, Greece; Ephesus, Turkey; Valleta, Malta and back to Barcelona. Although we often tour on our own, we chose to take the cruise ship shore excursions in Rome, Naples and Malta. (see related articles). If you can afford it, we highly recommend taking a semi-private or private tour at most of these ports to avoid the crowds and spend more time in the areas that are of most interest. In some places like Rome we felt we were in a cattle run, but that can't be avoided when you're on a bus with 45+ people and there are a dozen similar buses from our ship and others in port. For Lilliam, Ephesus and Malta were highlights, and Larry particularly enjoyed the scenery of the Amalfi Coast and the Blue Grotto area of Malta.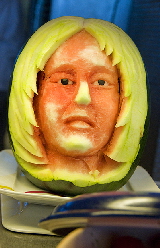 This was not our first Celebrity cruise, and once again, we were not disappointed. Our Stateroom - Verandah in the Concierge Class – was at the rear of the ship, a first for us. We found, however, that looking out at the ports as we departed each destination was indeed the most scenic we had experienced. At night, bright lights shone on the wake of the ship, making our stern verandah even more intimate. But don't expect much privacy when leaning against the rails in this location because all rear verandahs can be easily seen from the decks above!
Our stateroom offered plenty of closet space for our clothes, and our large luggage easily stowed under the comfortable bed. A large flat-screen TV offered plenty of entertainment and free movies (most of them were also shown at the ship's movie theater). We had our attendant empty the mini-refrigerator of items we would never drink and made space for the complimentary wine we enjoyed for a few days of our cruise. Fresh fruit and flowers delivered daily made our stateroom even homier.
It was a bit of a trek walking from the rear of the ship, but we welcomed the exercise because the food was quite good and abundant. With only a few exceptions due to personal taste, the food and service in the main dining room was top-notch. We had initially been seated in the middle of the restaurant, but it was too noisy and difficult to carry on a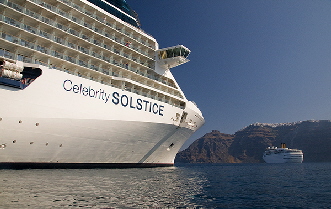 conversation at an 8-person table, so we asked the maitre d' to be relocated to a smaller, window-side table and it was easily handled. The two couples, both from the U.S., were interesting and fun, and we enjoyed sharing our daily experiences each night during dinner.
Since this was a special cruise, for our 25th wedding anniversary, we elected to try two of the specialty restaurants. You have to be very hungry to eat at the Tuscan Grill. Located at the back of the ship, it offered a spectacular 90-degree view of the scenery as we left one of the ports. The menu included Antipasti, Calamari Fritto Misto, Vitello Parmiggiana and many other Italian fares. Both the food and the service were excellent. The other specialty restaurant, Murano, had a French-style menu including Creamy Maine Lobster Bisque, Scallop Wellington, Five-Spice Crusted Cervena Venison Loin and more. Here we enjoyed fabulous service by two waiters, and the food, much of which was prepared at tableside, and overall experience was worth the extra cost.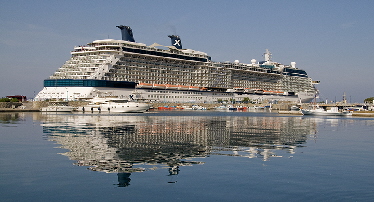 Because this was not our first Celebrity ship, we did notice one amenity option that could have been improved. We felt the Aqua Spa did not live up to the extra charge for the facilities, compared to what we had seen on the Millennium. For an extra charge, the Solstice - which reportedly has the largest facilities, offered two steam saunas, both co-ed, and six warm relaxing lounges. But the Millennium had separate men and women saunas, a unisex thermal suite with several steam and shower mist rooms with fragrances and a glacial ice fountain. We understand the Millennium has been "Solsticized" and we hope this doesn't include changing the spa facilities!
Overall, the Solstice is a great ship deservedly rated at the top of most lists, that we would happily cruise on again, and we know the Celebrity is a quality cruise line that we always consider when searching for future destinations that might excite us.