Riu Palace Costa Rica
A Jewel in Guanacaste
by Lilliam Larsen
Costa Rica has long been a popular destination for travelers who want a safe, yet adventurous country. The new Riu Palace, opened in November 2012, now provides a new all-inclusive choice that is certain to please.
I recently stayed at the Palace for a week and it was one of the most enjoyable resorts I've experienced in recent years. Only one hour from the Liberia airport, the white, castle-like architecture of the Palace rises adjacent to its older sister property, Riu Guanacaste.
The Palace was built with a more affluent clientele in mind, and it shows. The large lobby is decorated in a style reminiscent of art deco hotels, with modern stylish furniture and lighting, but it somehow fits within the secluded location of the property.
All 300+ rooms are spacious suites with plenty of closet space, digital safes and modern bathroom amenities. Guests either love or hate the design that includes an open bathtub between the bed and the bathroom.
A unique feature of the Riu hotels is the mini bar area in every room, which includes four bottles of liquor – Rum, vodka, whisky and gin – placed upside down with automatic dispensers. And if you empty any of the bottles, they are quickly replaced.
A variety of onsite restaurants include Italian, Asian Fusion, steakhouse and classic menus . The buffet restaurant is huge, with indoor/outdoor seating and themed evening buffets. Guests of the Palace can also eat breakfast and lunch at the Riu next door for additional variety. Many folks also take a short shuttle ride to nearby Playa del Coco which offers additional seafood and traditional restaurants as well as shopping venues.
While I stayed in a regular garden view room, there are also courtyard views and, for those who really want to be pampered, oceanfront Jacuzzi suites. These feature an outdoor Jacuzzi on the balcony or patio, overlooking the pool area and the beach. The best views are on the highest floor. Soaking in the Jacuzzi with a drink in one hand and a book in another while enjoying the view was extremely relaxing.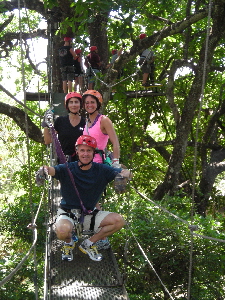 The grounds are ample and beautiful. Decorative water fountains lead from the hotel towards the beach. Four pools and a swim-up bar give guests numerous choices for sunbathing, while the wide volcanic-sand beach offers sun and shade under native trees.
On the beach, several vendors offer their tours and beach massages as well as horseback riding and ATV tours. Normally I would not feel safe taking an unsanctioned tour, but in this case I opted to take a horseback ride for $30. The horses were in good shape and were watered and fed, which is a plus. Our one-hour ride on nicely-spirited horses took us through the dry forest of Guanacaste and then along the beach. I was pleasantly surprised at the quality of the horses and the friendliness of the guide. I was also pleasantly surprised at the friendly and helpful staff of the resort. Every single employee went out of his or her way to
Other very popular tours are visits to the Arenal Volcano, zip lining, jungle boat rides as well as scuba diving and fishing. There are not a lack of opportunities to enjoy the area's natural attractions. There are even tours to adjacent Nicaragua.
American flies direct from Miami, and Delta has flights from Atlanta. Jetblue offers schedules from New York. For more information, visit www.Riu.com/PalaceCostaRica. It's worth it!