In my travels over the years I've been met upon arrival at a very nice resort or two by a staff of 8 or 9 offering a welcome drink, cold wash cloth, greeting, etc. in a line up that would impress anyone. But I've never before arrived at a facility that had 25 butlers and hotel executives in that line up.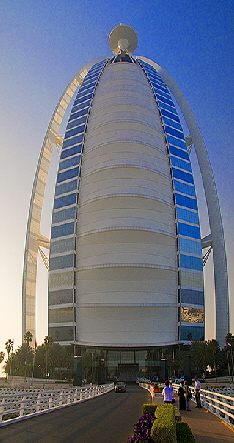 I've walked into my plush accommodations to find a nice bottle of wine or a quart of local rum awaiting my arrival. But I've have never before had a bottle of chilled Dom Perignon waiting in my room with a butler asking if he should open it now.
I've often been welcomed to a resort or hotel with a fruit plate or basket. But I've never before had the largest fruit basket available along with of a huge box of chocolate-covered plums, a large spread of the biggest chocolate-covered strawberries and another giant box of 20 assorted cookies and pastries.
I've been in very nice hotels that had one large flat screen TV. But I have never before been in one that had two giant flat screens that each popped upward with remote command from a huge cabinet.
I've been in large hotel suites that had maybe 1,000 or 1,200 square feet and they were the special suites for VIP guests. But I have never been in one that their basic standard deluxe suite is over 1,800 square feet and was laid out over two floors, each with 10 foot ceilings.
I've had the bellhop or even hotel guest manager spend 4 or 5 minutes with me going over the operation of everything in the room. But I have never before had my personal butler spend 30 minutes showing me around and explaining only about 75 percent of the room's amenities.
I've had good security locks at many of my hotel suites and an intercom at one or two places to speak through. But I've never before had an entrance camera to check on outside guests from either my room's computer or one of the electronic security monitors on each floor.
I've had power curtains in nice resorts that were operated to open or close by a wall switch. But I've never been able to do lighting, curtains and air-conditioning at the touch of a button or two on my security electronics, in-room computer or even the TV remotes before.

I've had many suites with a desk and computer access at the great places that I have stayed around the world. But I've never before had such a huge office area in a huge room with a giant desk, a state-of-the art computer with internet already open, gads of software on it, the room's security features and other controllable aspects on it, and a large fax machine, premium printer and scanner all hooked up ready to do any work you might wish to do.
I could go on, but you are probably getting the picture of my "adventurous" suite at the Berj Al Arab in Dubai UAE. They call it the world's most luxurious hotel and who am I not to believe that. I was fortunate enough to spend a couple of nights there recently and only wish I had more time to explore that hotel. Upon arrival, all guests are quickly in absolute awe and truly inspired.
The resort management also claims that this all-suite luxury hotel reflects the very finest that the world has to offer. I believe it. It offers a discreet in-suite check-in, private reception/guest services desk on every floor and a brigade of highly-trained, personal service butlers. Yes, I had one open the champagne and another draw my bath water on the following night. I didn't upgrade my experience to include the chauffeur driven Rolls Royce, but the resort hotel has the largest fleet in the world of those automobiles on property for guests. Nor did I get the chance to rent one of their Aston Martins, Ferraris or Lamborghinis for personal driving during the day.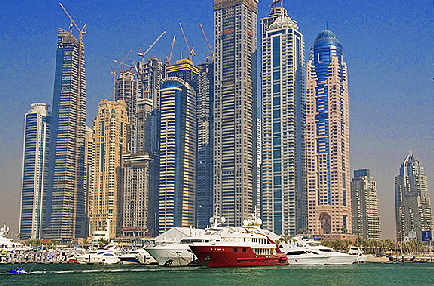 The Berj Al Arab sits on a man-made island connected by a curving causeway to the Jumeirah mainland and soars to a height of almost 1,000 feet. The legendary and symbolic hotel in the shape of a huge billowing sail dominating the Dubai skyline has attracted international attention and awe, ensuring its place as one of the most photographed structures in the world. This 11-year old world class hotel on the Dubai coastline with beautiful views of the Arabian Gulf is illuminated at night by choreographed lighting representing water and fire.
It has 202 duplex suites, ranging from 1,830 to almost 8,400 square feet across 28 double stories! The "smallest" 1-bedroom deluxe suite, which I enjoyed, had huge dining, living/lounge and office areas with in-suite dining for 4, a large safe, a "pillow menu" with a range of 13 pillows and quilts to choose from, a private bar counter and a free in-suite mini-bar, and a guest "washroom" that is larger than most hotel bathrooms, all on the lower level. Take the brass spiral staircase upstairs to the upper level, and you'll find a large dressing room, huge bedroom with king size bed and a luxury bathroom with Jacuzzi walk-in shower and separate Jacuzzi/Spa bathtub area.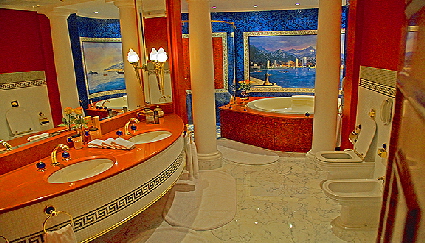 Your bath experience is complimented by a decadent bath menu with music and Aromatherapy Associates bath oils , prepared by your butler. Yours for use and as a gift upon check out are a full range of men and ladies Hermes amenities in full size bottles. I got a kick out of the 4-inch wide, shoulder shaped wood hangers that must have weighed about 4 pounds each. My shirt looked nicer on it than it did when I was wearing it!
In the two-story lobby, you'll find a cascade waterfall with kaleidoscope and choreographed effects and the world's tallest atrium, some 600 feet high, with golden columns, a central fountain and Statuario Italian marble walls and floors. Continuing the over the top presence are over 17,000 square feet of 24-carat gold leaf that is used to embellish the interior. Of course, you'll also the finest spa and health club facilities, called Assawan, on the 18th floor and a pool on ground level. The carpets and rugs are all custom-made from the finest of materials, and even the wine glasses made only for the Berj hotels.
Speaking of restaurants, my favorite is the Al Mahara, their award winning signature seafood restaurant accessible by a three minute virtual submarine voyage. It has the magnificent floor to ceiling, Oval Aquarium in the center of the restaurant visible from every table that surrounds it. Many other dining options include the Al Muntaha that offers Mediterranean cuisine and unmatched views of The Palm Jumeirah and The World Islands from almost 650 feet above the Gulf, the dramatic gold, red and black decor Al Iwan, the casual alfresco restaurant Majlis Al Bahar, the Sahn Eddar at the base of the world's tallest atrium and the Bab Al Yam cafe restaurant.
The hotel is owned by the world class international hotel and hospitality company, Jumeirah, which also owns the other Dubai landmark, the Berj Dubai, the world's tallest structure. Where else do you get a personal letter from the General Manager with his personal cell phone number to "discuss any matter you deem necessary" while staying there. It's only at the Berj Al Arab hotel. Be sure to take your wallet for this unforgettable experience!
For more information about the Berj Al Arab, contact their website at www.jumeirah.com, email BAAinfo@jumeirah.com or phone +9714 301 7777. For flight information about four US gateways with non -stop service, contact Emirates Airlines which has its hub in Dubai.