Fiji Tours - Fire Walking, River Safari

The dual engine jet boat heaved sideways in the sharp turn wetting the passengers … on purpose of course. The captain jerked the steering wheel hard left to spin the craft and slam the gunwale into a standing wave. Showers again came from overhead as the safari jet boat's bow dug in. The sunglasses of a friend in the front row flew off in the spray. Fun stuff for the 15 passengers on a hot Fiji day on the muddy Sigatoka River on Viti Levu!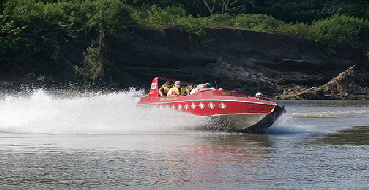 The boat ride through what is called the "salad bowl of Fiji" was just too short. We motored a few miles up the river through shallows and bends surrounded by bluffs, rolling hills, valleys, farmlands, and other tropical terrain on the interior of the island. The Sigatoka River Safari (www.sigatokariver.com) is the island's top "adventure tour" that includes a village tour where you meet new friends, enjoy their culture, participate in a kava ceremony and have lunch at the village community hall. The jet boat makes a few stops at landmarks and local river users along the way.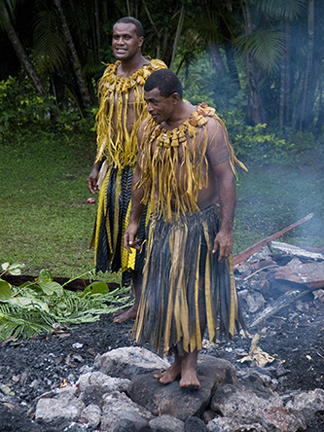 The jet boat tour is one of several offered by most resorts on Viti Levu, the most populated island in Fiji. Of course, there are also plenty of other water and land-based sport activities that will keep visitors entertained on their vacation. Island hopping and village tours are abundant on Viti Levu and Vanua Levu, the second largest island, where many visitors stay. A few of the other interesting activities offered at resort tour desks are visiting a cultural firewalker performance, remote caves, such as OHO and Nahehe, and forest-surrounded waterfalls, such as the 120-foot high Biausevu waterfall.
Some resorts have a firewalker performance on property one night each week. The Fijian "warriors" from the Sawau tribe prepare a pit of hot stones and then cross the fiery coals barefoot in the sizzling show. The men dressed in skirts of dried pandanus leaves make it a memorable and colorful event. Take your camera!
Weather can limit duration of some interior tours, especially during the rainy season, as we found out on a recent trip in April. In the rainy months, inland roads and hiking paths are too muddy and limit tour traffic. I

would recommend you plan your visit during May through October for drier times. If your interests are more water sports related , then staying on Viti Levu's famous "Coral Coast" along a stretch of white sandy beach with clear lagoons is wise. Most resorts there offer multitudes of water activities and tours.
For general info on the Fiji Islands, visit www.tourismfijius.com. A great travel guide for the islands is Moon Fiji by David Stanley. His comprehensive handbook is full of resources for travelers wanting to island hop or just have the best information to help make decisions on activities to pursue. Visit www.moon.com for more info on it.