Fiji Fishing Action – Mamanuca Islands
Just west of Nadi off the main island of Viti Levu lie 14 islands or more in the Mamanuca group, and fishing off them is one of the most popular activities. More than two dozen resorts and five
scattered villages are bases for sportfishermen that troll for big game fish such as marlin, wahoo, sailfish, tuna and dolphin or "mahi-mahi" as they are called in the Pacific. Charter boats are usually available and move from one resort to another to pick up a full load of 4 to 6 anglers for the day's activity.
On a recent trip, I got a taste of the offshore angling aboard the Dolphin Star and the Bill Fever charter boats. Australian Emmanuel Scali and I got into a bunch of bonito on a morning trip aboard the Dolphin Star. Birds were diving the surface and baitfish was being ravaged by the 6 to 10 pound bonito below the surface. Each time Captain Moji Sovedabua trolled through the birds, our reel drags sung and our rods bent with fish. Doubles and even triples were easy.
Moji, a captain aboard the Dolphin Star for five years, has fished the Mamanuca Island area for nine years. He has caught wahoo up to 110 pounds, dolphin up to around 100 pounds and yellowfin tuna slightly larger. The captain's top marlin was 258 pounds and his biggest sailfish weighed over 120 pounds. His clients have had memorable days on the waters in the Mamanucas. He recalls catching 9 large dolphin on one trip and 25 tuna on another.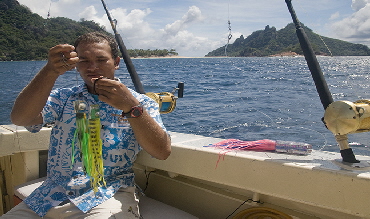 The best times of the year to get in on the bluewater action varies. June and July are top times for wahoo and marlin (saku voro waqa) including striped, blue and black. "Black marlin hang around until November and blues start in the spring moving on in August," explained Moji. The dolphin fishing is optimal from April to September, according to the captain. Wahoo are taken year around, and top yellowfin tuna times are from May through July. The Giant Trevally (Saqa) is a great game fish that grows to 150 pounds in these waters, and they are caught year around.
"The better areas around here are about 12 miles south of the Malolo Island barrier reef," he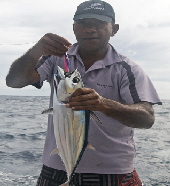 added. "From the barrier reef, we go out about 3 miles south thru Navula Passage and there it's good for all the species."
Another top spot according to Esira Koroi, the Dolphin Star mate who has fished the waters for seven years, is beyond the Castaway Passage southwest of that island.
Another top spot is barrier reef that they visit which is about 3 miles south where a drop-off from about 220 feet down to over 1,000 exists. Several good Fiji trolling spots are reachable by both full day and half day charters.
The best time of the year for bonito? "This time of course on through June, July and August," a smiling Esira told me. "They are usually as active as they were today. They are very reliable!"
Editor's Note: For nearby accommodations, check out the Musket Cove Island Resort & Marina, where the Dolphin Star is berthed. The Malolo Lailai Island destination has a ferry service from the mainland's Port Denarau 3 times a day. They have traditional thatched Fijian "Bures" to large 2 bedroom villas on several hundred acres of coconut palm ambiance.