Fiji Viti Levu "Bula" Touring
There is one thing you surely realize when you arrive in Fiji and that is that the people there are friendly. Fijian hospitality starts off with a welcoming "Bula"! By the time you

leave, all visitors believe that the Fijians are the "friendliest people" in the world, as their tourism officials claim. I was no exception.
There are 333 islands in Fiji and while many are uninhabited, friendly people live on the others. Viti Levu and Vanua Levu are the two largest islands where most of the population of 900,000 lives. Visitors arrive at the international airport in Nadi on Viti Levu which is known for its scenic coastlines and rainforests. Also located on the island is Suva, the capital, largest city and main port. Outside of the two cities lie interesting places to explore and quiet resorts to visit.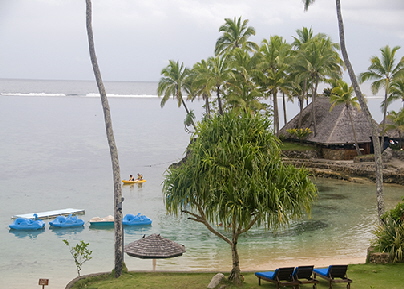 On Viti Levu, I stayed at the 250-room, 5-star Warwick Fiji Resort & Spa which is located on the famous "Coral Coast" along a stretch of white sandy beach with clear lagoons. Highlights of this first class retreat were the cocktail bar, the seafood restaurant, the beach and the pool with swim up bar. Interesting activities include a mini-golf course, tennis and squash courts, hiking, snorkeling, archery, fitness gym, paddle boating, mountain biking and wind surfing. They have several dining experiences and nightly DJ or live band entertainment. For more information on the accommodations, contact wkfjres@warwickhotels.com or visit www.warwickfijihotel.com.
Halfway between Nadi and Suva overlooking the Beqa Lagoon is Pacific Harbour and the Pearl South Pacific Resort, Spa & Championship Golf Course. The resort is surrounded by lush tropical gardens and offers a scenic 18-hole Robert Trent Jones golf course within the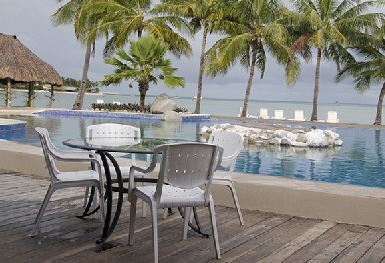 tropical rainforest and winding canals, as well as a range of adventure activities that take a back seat to no one. Guests can enjoy options such as scuba diving with sharks, white water rafting, deep sea game fishing, surfing, zip-lining, snorkeling, kayaking, jet skiing , volleyball, a fully equipped gymnasium and much more.
The property offers 18 free-of-charge activities, 4 restaurants (try the Mantarae and Bistro), 6 bars, movie room, and a vast selection of massages and spa services from which to choose. The Pearl has one of Fiji's longest white sand beaches and a natural ambiance you won't forget. According to General Manager Mark Propert, the resort is planning on introducing a 7-night "Adventure Package" for around $1,500 US which should be a real bargain. Check it out. For more information on these accommodations, contact stay@thepearlsouthpacific.com or visit www.thepearlsouthpacific.com.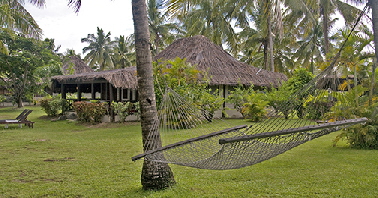 A small resort that I enjoyed on the small island of Malolo Lailai was Musket Cove Island Resort & Marina. This resort destination in the Mamanuca group of islands west of Viti Levu has a ferry service from the mainland's Port Denarau 3 times a day. They have a variety of accommodations from traditional thatched Fijian "Bures" to large 2 bedroom villas on several hundred acres of coconut palms. They have a great marina, restaurants and spa for complete enjoyment of the stay. It is just a short boat ride away from "Castaway" Island where Tom Hanks made his movie.
A great travel guide for the islands is Moon Fiji by David Stanley. His comprehensive handbook out this year is full of resources for travelers wanting to island hop or just have the best information to help make decisions on activities, resorts, restaurants and culture.