A good bug? Usually that is a "dead bug", but it this case, the definition means an "inspiration". After a recent tour of the Grandeur of the Seas, I again have the "bug" to take a cruise. The "Vision Class" 7,400 ton Royal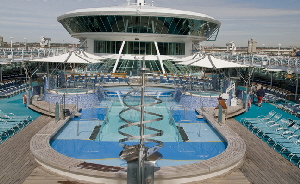 Caribbean ship with its themed dining rooms and restaurants, a "Casino Royale", outdoor and indoor swimming pools, solarium with sliding roof, and open atrium with shopping (called a "Centrum"), is all any novice or frequent cruiser could want.
The 14-year old, 2446-guest ship was in port at one of its new homes in Tampa Florida. The Grandeur comes equipped with a full-service fitness spa, six whirlpools, an outdoor jogging track and choice of 8 bars and lounges. There's even a rock climbing wall for the young at heart and youth facilities for the kids, which we checked out.
We toured the accommodations, including four main
categories of nicely appointed interior staterooms, outside staterooms, private balcony staterooms and luxurious deluxe suites. The latter offer balconies, multiple rooms and extras like complimentary concierge service or even a baby grand piano. All seemed roomy to my wife and I who haven't been on a cruise for 5 or 6 years.
I particularly enjoyed all the art, brass and wood statues throughout the common areas. The "sleeping guy" positioned by the exterior glass in the library was very interesting and humorous. The full size statues of armored warriors with protective head gear holding spear and sword, shields and body garb were positioned near the main lounge and seemingly ready for anyone getting "out of control". Wall murals in one of the quaint bar areas depicted shoreside activity of ships in port of years past.
In the Casino Royale, full size screens behind black jack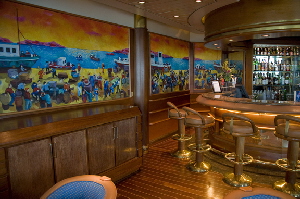 tables had seemingly "live" dealers chatting with players. To find the Grandeur of the Seas terminal in Tampa, just drive to the city's major attraction, the Aquarium. It's right next door and parking is in a high-rise garage right across the street from both.