Swinging For Harmony In A Nature Preserve
The New Harmony Golf Preserve is a course everyone can enjoy!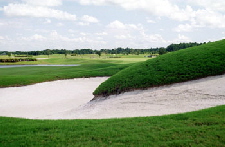 Just when you thought a new concept in golf course design was impossible, Harmony Golf Preserve opens up. Designed by Johnny Miller, the course is wrapped around existing wetlands and promises that no homes will be built on the golf course itself. It is, indeed, the centerpiece of 11,000 acres of meadows, towering stands of southern pines and two 500-acre natural lakes.
Harmony Preserve opened in November 2002, offering players of all levels multiple chances to recover from sand traps and water hazards strategically placed throughout its length. With five tee placements, golfers can enjoy anywhere from a championship length of 7,428 yards from the black tees to a milder 5,410 yards from the red tees. The ancient land is home to tremendously diverse plant and animal life, including deer, otters, sandhill cranes, bobcats, foxes, ospreys and owls, as well as hundreds of plants including one kind of rare orchids.
"You can easily fit two regular golf courses on The Harmony Golf Preserve," said Dean Wilson, Director of Golf. "However, the design has no forced carries. The course is remarkably forgiving to world-class players and duffers alike."
I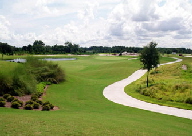 can attest to that. Despite a fun, educational clinic by Miller himself, my game was not the best that day (come on, we all have our good days and bad days). Yet I managed to keep up with my group on most holes. I was able to achieve par on a par-5, the first time ever, as well as another on a par 3. The surroundings were beautiful, unspoiled and certainly not expected from a public course in Florida. But Harmony is deceivingly difficult. In addition to interesting contour designs on the fairways and around the greens, multiple tees, creative pin placements and "blind" fairway landing added to the challenge.
It's no surprise that this design is expected to set a new trend for developers who want to integrate a golf course into residential development. Instead of stringing single-file fairways between houses, the existing natural landscape was the focal point of the layout according to Fred Bliss, director of golf course design services for Johnny Miller Design, Ltd. Running the fairways in single-file fashion may add value to a large number of home lots, but it restricts the course design says Bliss. "You feel as if you are playing a narrow corridor; that intrudes psychologically on the play and on the quality of the experience. At Harmony, the golf course is the focal point for the entire community, and you end up with a course where you can play golf as it was intended to be played."

Golfers can enjoy a complete practice facility, featuring a driving range, putting green and chipping area while the 18,000 sq.ft. clubhouse under construction will offer a professional shop, locker rooms, taproom and a banquet facility with professional catering services. If there is one unfortunate aspect of Harmony Golf Preserve it could be its location. Situated on U.S.192, 10 miles east of St. Cloud, it is definitely away from the mainstream golf corridor. But take my word for it, the drive is well worth it.
Johnny Miller, a premier PGA player and winner of 25 PGA Tour events as well as the U.S. Open and British Open, turned his attention to golf course design in the 1970's. His work also includes Thanksgiving Point in Lehigh, Utah; Entrada at Snow Canyon in Utah, and Badlands in Las Vegas.
For more information or tee times, call 407-891-8525. Or visit their website at www.harmonygolfpreserve.com. E mail address is info@harmonygolfpreserve.com.