Hawai'i's Kona Coast for Marlin
by Larry Larsen
Stable weather, protected fishing grounds, bait-intensive Japanese currents and productive underwater ledges are a few of the reasons for Hawaii's Kona Coast reputation as this country's best Pacific Blue Marlin fishing destination. Much of the action takes place just four miles offshore, over 6,000 foot depths, in an area adjacent to the international airport called "The Grounds."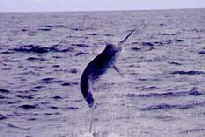 Most of the bigger blue marlin are caught there, according to veteran Captain Rusty Unger. He knows. That's where he caught a monster 976 pounder. The Kona-based charter captains sometimes go as far as 20 miles out if nothing is happening near the hilly, lava-covered shore. The southern end of the Big Island of Hawaii is also popular during tournaments because the currents usually bring in warmer waters and wash baitfish to the area.

Unger, captain of the "Mistress," a 47 foot Buddy Davis custom sport fisherman out of Kona Village Resort, for years, varies his fishing strategy depending on weather conditions and time of year. The Kona (which means leeward) Coast waters are usually calm, since the mountains on the island block the trade winds. This makes billfishing possible about 360 days of the year. On calm days, Unger typically trolls five baits at up to 7 knots. In rougher seas, he'll use only four - two on each outrigger. In the winter, Unger prefers to use natural ballyhoo rigged with a plastic skirt. The rest of the year, skipjack tuna is his favorite live bait, which he trolls at about two knots.

The best time to catch marlin varies from year to year, according to Fred Duerr, former General Manager of the Kona Village Resort and an avid marlin fisherman. You might hook a giant at any time, but he believes the summer months are often better for sheer numbers of fish. The water is warmer in some of the better Kona areas such as the Upper Keahole. A current running off a ledge brings the baitfish to the lazy marlin who love to just sit by the ledge and wait.

"Marlin seem to like temperatures around 80 degrees or higher," says Duerr. "Ocean currents from as far as Japan wash large dolphin and tuna by the area. Marlin love such a menu. But you don't see them on the surface like you do in other parts of the world. They come from the bottom."

Tuna can average up to 300 pounds, and the most common are yellowfin that run between 130 and 230 pounds. During the tuna "season" you can catch two or three a day, incidental to marlin fishing, according to captain Unger. You can have the tuna bait out there for them while trolling marlin lures.

The captain has fished off Maui, Molokai and Lanai but the best fishing is off Hawaii , because it's more comfortable and calm. The trades blow up to 25 knots and create 12 foot seas in some areas, but off Hawaii's leeward side (Kona side) the mountains always hold the clouds and the winds down.
"You need to be in reasonably good shape to catch some of our marlin," Duerr points out. "We have a marlin mounted here that weighed just under 1,000 pounds that was caught by a woman who weighed 120 pounds. The other fish mounted there is 1,064 pounds and was brought in by two men who fished for several hours. The woman brought in hers in about 20 minutes."
"The marlin caught are females, and the ones brought to the boat are usually caught during the spawn," he continued. "At that time they are weak, and that's when they can be fought enough to get them to the boat. There's no way that a healthy 1,000 pound marlin can be landed by a rod and reel fisherman. We lose a lot of big marlin off this coast every year, but we also promote tag and release."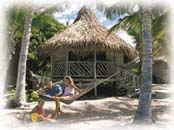 The sparkling waters of the famed Kohala Coast on the Big Island of Hawai`i are often referred to as "the fishing capital of the world" by anglers and boating enthusiasts. Kona Village Resort, with its prime location on this spectacular stretch of coastline, offers fishing excursions directly from its bay. Fish for marlin, mahimahi, ono and ahi (yellowfin tuna) onboard the Kai Lio. Captained by Rusty Unger, a second generation sport fishing captain, the Kai Lio is a Coast Guard approved, 36-foot Custom Uniflight with twin Cummins diesel engines and the latest electronics. For info, contact toll-free from North America, Hawaii & Canada 800-367-5290 or phone 808-325-5555.