The "happening spot" in the Caribbean today? One of the picks has to be the Punta Cana area that is spread out over 30 miles along the eastern tip of the Dominican Republic. There, in places like Cap Cana and Bavaro you'll find plenty of large, first class resorts and the requisite accommodations and endless activities that most such places promise. The popular holiday destination with mostly all-inclusive hotels attracts visitors from all over the world.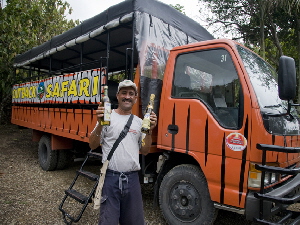 Beautiful white sand beaches and palm tree-dotted landscapes complete an area that offers an ambiance that is difficult to find elsewhere. Spas, casinos, shopping, restaurants, water sports and abundant golf courses are options for many visitors. Most resorts have "tour desks" in their lobby where a myriad of available tours are presented to inquirers.
We stayed at the all-inclusive Majestic Colonial Resort, a 4-star property on beautiful Bavaro Beach. The hotel's staff was friendly and the service was great. So was the lobster at Tres Carabelas, the resort's seafood restaurant. The facility had 9 bars and 7 restaurants in all, and group-registered guests were able to eat at the resort's sister property, the Majestic Elegance, right next door. The standard junior suites in the five year old resort were extremely comfortable. The great views from the balconies were mostly of the 1 ,200 foot long, free-form pool that extends from the lobby to the beach.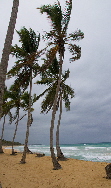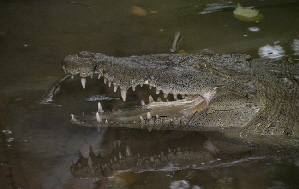 At the Apple Tour (Amstar- phone 1-809-221-6626 or info@amstardmc.com) desk in the Colonial, we booked a fishing trip (see related article) and a full day Outback Tours & Adventures (https://www.outbackadventuresdr.com) that gave us a chance to see the surrounding countryside. We headed out from the hotel through colorful and quaint villages, fruit plantations and deep into the lush, low tropical mountains about an hour northwest of the resorts. The terrain varied from jungle forests to hilly ranch lands and our guide "Sammy" kept us entertained with cultural history commentary of facts, interesting life stories and even a few jokes.
Sammy explained the abundant flora and fauna that we were observing and also prepared a few drinks and passed out bottled librations throughout the trip. Our stops included a typical Dominican home, a school and a coffee, chocolate and fruit plantation. They explained the entire processing of the coffee and cocoa at the latter and passed out sample drinks of the freshly-ground coffee and delicious hot chocolate.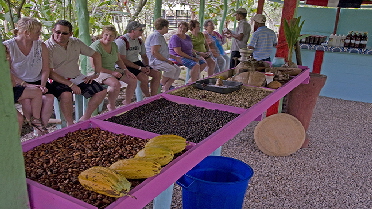 We moved on to a countryside ranch and enjoyed a Dominican style buffet lunch and walked their grounds to see crocodiles, flamingos, iguanas and other wildlife. Our final stop of the day was a beautiful palm-lined beach where many of us tried our hands at riding boogie boards in the surf. The open bar on our "safari" truck with forward-facing seats was well equipped and we all arrived back at the Colonial safely.