St. John - A Day on the Beach
Snuba in the underwater world and a drive-around excursion in the pretty island hills make for a memorable visit to this Virgin Island.
By Larry Larsen
Trunk Bay, rightly called one of the ten most beautiful beaches in the world, lay below us in a picture postcard setting. Our perch at a North Shore Road overlook above the world famous beach was just one of the highlights of our island tour. It beckoned our small group of water lovers. The following morning, we were on the white powder sand awaiting Frank Cummings, owner/operator of VI Snuba Excursions.
And while I have been certified in SCUBA for over 30 years and frequently dive with tanks on my back, I was looking forward to trying snuba with the long hose connection to the surface tank. We started out on the west end of the beach and then moved along the coral reef between Trunk Bay and Jumby. The spot is right in the middle of the Virgin Islands National Park.
Frank's Snuba operation utilizes a small inflated raft that contains a standard air cylinder and two 20-foot long hoses that are attached to the swimmers. As divers breathe through the regulator, they swim along pulling the raft. Frank provides an excellent orientation with information about the dive and then a short practice session in waist-deep water. He then dons a SCUBA tank and guides a group of 2 to 6 along the beautiful coral reef.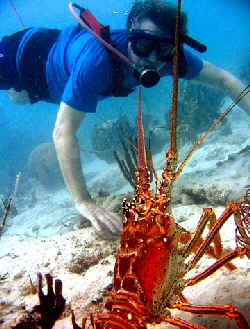 Our dive through colorful corals jutting through the white sand exposed the underworld of myriads of beautiful fish. Parrotfish, triggerfish, angelfish and other small reef specimens darted in and out of the crevices and under the ledges. From time to time, snuba groups see morays, stingrays and larger fish such as grouper.
I was moving along looking for lobster and other hidden treasures, nose into the darkness beneath some of the ledges, when I looked up and noticed Frank motioned me and my two snuba mates over towards him. I quickly noticed the giant lobster he was focused on in the sand five feet away from the nearest ledge.
I moved down to look it in the eye and gently touch its antennae, as Frank snapped a couple of pictures of me with the 10 pounder. It was indeed a monster, the largest I had ever seen in the wild. And, I had been lobster hunting perhaps a 100 times in my first 10 years of SCUBA diving. I swam off leaving the "bug", as they are called by lobster hunters, on the ocean floor. My craving for a lobster dinner was peaked however.
"Snuba was designed in 1988 to bridge the gap between SCUBA and snorkeling," Frank says. "It was designed to introduce the non-diving sector to the beauty and wonder of the undersea world. We have over 95 percent beginners and Snuba is very safe. We never go deeper than 20 feet. Over the past 16 years, we have enjoyed the best safety record in the dive industry. Worldwide, 4 million people have tried snuba without an accident. "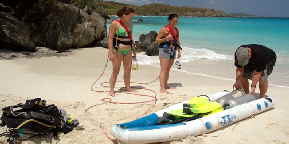 "It's a great family-oriented activity, for both children over 8 years of age and the older set looking for new adventures," he explains. "Snuba is a way for certified divers to break-in a mate to experience the joys of diving. They can go beyond snorkeling with the guided underwater tour. We provide all the equipment, instruction and fun!"
Memorable Images Below
To make the excursion even more valuable, Frank takes underwater digital photos of the activity and posts them on his website. Anyone can go there and browse the images from his past trips. The pictures that are for sale are a great keepsake of the snuba adventure. For those that want to experience the snuba on St. Thomas, Frank offers a second operation at Coki Beach near Coral World. The cost of a 45-minute excursion runs about $65 per person.
Trunk Bay is an extremely popular beach, what with the noterity and acclaim, but discoveries other than giant lobster still take place there. Just a couple of days before we hit the beach for our snuba excursion, high winds and wave action reoriented some of the sand bottom between Trunk Cay and Windswept Point about 50 yards offshore in six feet of water.. Unearthed, according to Trunk Bay divemaster David D'Alberto, were some old artifacts. D'Alberto, who took the picture shown here, verified the findings with a resident archiologist from the National Park Service.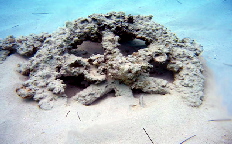 "Most interesting was a rusty wheel that was probably part of a hatch assembly from a U-boat," says D'Alberto. "Most likely, it was placed there as a mooring for a boat owned by the Boulon family. There are other interesting things showing-up in the sand nearby and more research is planed. It's interesting how the sea can change and hide things for many years and then expose them again, and give us something to think about."
Memorable Visions Landside
Our St. John land tour started at the beautiful Westin Resort & Villas at Great Cruz Bay where we were spending some quality "down" time. The resort is the island's largest, sporting 282 luxurious rooms spread on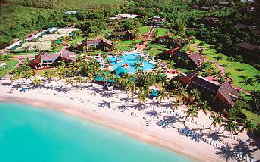 the hillside around 47 scenic acres. At the center point is a 1,200 foot strand of palm-lined, sugar white beach, a marina and all the water sports toys one can imagine. Four restaurants, a quarter-acre freshwater swimming pool and an elegance that is not over-priced make this special place my favorite resort on St. John.

In addition to Trunk, we visited or viewed Caneel Bay, Cinnamon Bay and Maho Bay along the North Shore Road. We also stopped at the Annaberg Sugar Mill Ruins above Leinster Bay. Since two thirds of St. John's 27 square miles is part of the national park, there is plenty of nature's work to see. The tallest point is Bordeaux Mountain at just less than 1,300 feet, and the island's very irregular shoreline offers numerous points, bays, islets and stunning beaches to boaters and those able to explore and access the water.

St. John Contacts

To learn more about the VI Snuba Excursions, contact Frank and Tammy Cummings at 1-340-693-8063, write them at PO Box 831, St. John, VI 00831, email info@visnuba.com, or visit their website at www.visnuba.com. For more information on the St. John Westin Resort & Villas, contact 1-340-693-8000 or visit their website at www.westinresortstjohn.com. For more general information on vacation planning on the island of St. John, visit their website at www.usvitourism.vi or call the U.S.V.I. Tourist Board at 1-800-372-USVI (8784).

Most roads lead back to downtown Cruz Bay which offers shopping, a ferry to St. Thomas and a drop-off/pick up point for visitors arriving by sail or power boat. When one leaves St. John and its relatively un-commercialized waterscape, there is a strong attraction to return. Thoughts of the 10 pound lobster strolling along the reef floor and the 3-pounders that found their way to my plate on more than one occasion will certainly draw me back to this "bug" paradise!