St. Lucia's Deep Sea Attractions
By Larry Larsen (c)
There is no prettier place in the Caribbean to fish or dive than St. Lucia. The colorful coral reefs lie all along the edge of the island and drop quickly into a thousand feet or more of bluewater. With a rugged, mountainous rainforest as a backdrop, outdoor lovers experiencing the offshore waters know they are in a special place on this earth.
St. Lucia's natural beauty, protected dive sites, and abundant marina facilities and charter operations make the island a desirable destination for sailors, anglers and divers. With the Caribbean on the west and the Atlantic Ocean on the east, St Lucia (pronounced Saint LOO-sha) has been popular with outdoor sportsmen for decades. One of the Windward Islands of the West Indies' Lesser Antilles, St. Lucia is nestled between Martinique and St. Vincent, halfway down the eastern Caribbean archipelago.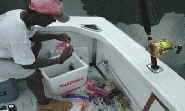 Onshore, the renown "Emerald Isle" is known for its natural beauty and diverse attractions, including the signature Piton Mountains, Petit Piton and Gros Piton, and its lush, tropical rainforest. Along its shoreline lie quaint fishing villages and some beautiful bays. St. Lucia's two most popular marinas are Rodney Bay, a man-made lagoon, and Marigot Bay, where a wide variety of sportfishing charters, dive boats, yachts and sailboats (both bare boat and crewed vessels) can be chartered to navigate through the nearby Grenadine Islands. These full-service marinas offer safe anchorage, shower facilities, restaurants, groceries and modern maintenance facilities.

The waters off the coast of the island are home to several species of game fish, such as mackerel, king mackerel, white marlin, barracuda, kingfish and sailfish. Deep-sea trolling is a popular recreational activity and numerous charter operations on the island offer full-day (8-hours) and half-day fishing excursions. While I have only fished the area a couple of times with mixed success, a day on the water here is always fun. Captain Mike's Sport Fishing (758-452-7044; capt .mikes@candw.lc) at Castries is a good charter operation. They have a fleet of Bertram boats from 31 to 38 feet long and 50-pound Penn International and Shimano tackle.

Diving & Snorkeling

For the sportsmen that want to swim through spectacular reefs and view beautiful coral, sponges, and marine life up close and personal, the island offers plenty of options. Located at the tip of an underwater volcano, St. Lucia's coastal waters offer a number of sunken ships, which are home to large gorgonians, black coral trees, gigantic barrel sponges, purple vase sponges and black lace corals. Divers may come face-to-face with sea turtles, nurse sharks, seahorses, angelfish, golden spotted eels or any number of other fishes.
One of St. Lucia's best dives, and one that I have dove twice, is the Anse Chastanet Reef on the southwest side of the island. The "shore dive", where divers enter right off the beach, can access the reefs that drop from 20 to 140 feet in a unique coral wall that continues from Anse Chastanet Bay, around the headland of Grand Caille and towards the harbor of Soufrière. At the point of Anse Chastanet, a plateau named Fairy Land slopes gently from 40 to 60 feet. Strong currents keep the corals and sponges clean, perfect for optimal viewing and underwater photography.
Other great sites are the Anse La Raye, the Coral Gardens, and the Key Hole Pinnacles. One of the finest wall-and-drift dives in St. Lucia, Anse La Raye features impressive boulder formations, while the Coral Gardens, located at the base of the Gros Piton, offer five-finger coral runs down to 50 feet. The Key Hole Pinnacles are four coral and gorgonian-encrusted seamounts that rise up from the ocean depths providing a pristine marine habitat. The Lesleen M is a sunken, 165-foot freighter that lies upright in 60 feet of water near Anse Cochon on the west coast.
A couple of excellent dive operators are Scuba St. Lucia (758-459-7755; www.scubastlucia.com), a five-star PADI dive center located at the Anse Chastanet Resort, and the Jalousie Hilton PADI Center (758-459-7666). Both offer dives to the top sites and a certification course to hotel guests and visitors ages 12 and older. Photographic equipment is available for rent at Scuba St. Lucia (film can be processed on the premises), and instruction is offered in picture taking.
Marigot Bay Marina Redevelopment
The pristine Marigot Bay harbor has a colorful history as the hiding place for pirate ships and the English navy, as well as a backdrop for Hollywood movies such as Dr. Doolittle and Sophia Loren's Fire Power. Currently, it is a playground for international yachters and sailing celebrities.

Perhaps St. Lucia's prettiest landmark, the bay and its marina are undergoing extensive redevelopment and expansion, according to Doubloon International Ltd, the company responsible for the new luxury apartment hotel, Discovery at Marigot Bay. Rejuvenation plans for the existing marina facilities include providing 40 berths with power and water and 30 mooring buoys, which will increase present mooring capacity from 26 to 70. The hotel dock will be able to provide alongside mooring for boats up to 130 feet in length.
The marina project, which is expected to cost around US$3 million to complete, will include a total re-build of the docks currently managed and run by The Moorings, a rebuild of the old Hurricane Hole Hotel docks, the construction of a mooring field in the inner bay, and the development of a new marina village complete with shops , banking facilities, art gallery, restaurant and bar. The Moorings will continue to manage the docks and their yacht charter operations from part of the site.
The new village will have a lively Caribbean feel with a mixture of two-story wooden buildings each painted in bright tropical colors, and will incorporate a central courtyard garden with smaller gazebo-style commercial units nestled into the landscaping. There will be strict guidelines for the fit-out of the commercial units, which will range in size from 250 to 2500 square feet in the main buildings and up to 100 square feet in the gazebo units.
Construction is expected to progress in two phases with the rebuilding of the docks and the development of the mooring field. It is anticipated that phase one of the project will be complete in the early part of 2004. Phase two, which is set to start in April 2004, will see the construction of the marina village and associated facilities. The village is scheduled for completion by early 2005 to coincide with the opening of Discovery at Marigot Bay.
"This is an exciting project which, along with Discovery, will inject new life into one of the most beautiful bays in the world," said John Verity, Managing Director of Doubloon International. "We are particularly concerned about maintaining the environmental integrity of Marigot Bay and have gone to great lengths to ensure this development will not encroach upon the mangroves which are an important part of the ecosystem of the bay. We believe that redevelopment of the marina will once again place the Marigot Bay at the forefront of yachting activity in the Eastern Caribbean."
For further information on the plans, contact Molly McDaniel, Discovery at Marigot Bay at phone 758-452-0942 in Rodney Bay, St. Lucia. For information on the marina, call 758-452-0324 or visit www.rodneybaymarina.com.
St. Lucia is only 27 miles long and 14 miles wide at its widest point, but it does take a while to traverse its winding roads. The rainy season is June-November, but the showers are usually brief. Castries, located in the northwest, is St. Lucia's bustling capital and the island's major port. George F.L. Charles Inter Island Airport (Vigie ) is just outside Castries. Valid passports and an ongoing or return ticket are required for all visitors. For information on the beautiful island of St. Lucia, call 888-4-STLUCIA, or visit www.stlucia.org. Click if you want help with lodging or flights.