Elevate Your Golf in the Alps
by Lilliam Larsen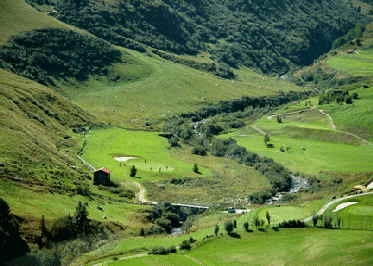 Not being a year around sport in these climes, there are fewer than 65 golf courses in Switzerland. The sport is, however, gaining in popularity. Throughout our trip, we saw a variety of countryside golf courses interspersed within the villages and mountain valleys. Some are 18 holes, some are 9 holes, and several (called executive courses) are actually par-3's. But, you'll get plenty of exercise despite the length of the courses. Except for a few 18-hole courses, you must be ready to carry or pull your bag.
Another interesting course lies near the village of Randa. Reachable by car from anywhere outside of Zermatt, and by train from the resort town, the Matterhorn Golf Course is divided in two by the River Vispa and was designed to naturally blend into the landscape. The 9-hole course is over fairly flat terrain which makes it easy to pull or carry your bag.
The oldest and highest golf course in Switzerland is in St. Moritz, inaugurated in 1891. This scenic par-3 is only a block away from the Kulm Hotel, but don't let its short layout fool you. Spread out over uneven terrain, with undulating fairways and greens, it proves to be a more interesting challenge than it looks. The course offers spectacular scenery as it overlooks the entire valley of Engadin, Lake St.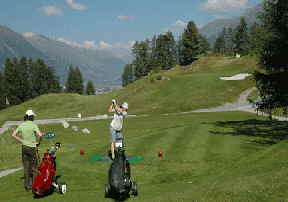 Moritz and the surrounding mountains in the distance. The Engadin Valley is also home to four other golf courses, all approximately one hour from St. Moritz.

Worthy of mention also is the Crans-Montana area, home of a five star resort by the same name. This area includes the 18-hole Seve Ballesteros course, home of the European Masters. Another famous golfer, Jack Nicklaus, has a 9-hole layout named after him here.

The high season for Swiss golf is from May to October, although the warmer summer months of July and August guarantee better weather. To make it even easier to travel with your bag, Swiss International Airways offers a membership program. This membership provides golfers with free transfer of golf bags on the entire Swiss

network and special rates at many golf courses and hotels. If you don't want to drag your clubs around, rentals are available at the better courses.

Nearly every golfer of every skill level can improve his/her game in Switzerland. The higher altitude almost guarantees a faster swing and a longer drive! The only problem you might have is trying to keep your eye on the ball instead of the scenery.

Read Next Story