Switzerland - Special Issue
A First Class Pass to a First Class Vacation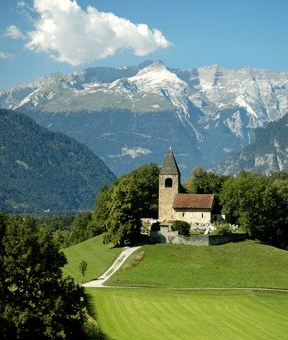 Described as one of the wealthiest countries in the world, Switzerland's per-capita annual income is around $30,000 after taxes. Its fame as a place to hide fortunes in Swiss bank accounts is perhaps one of the reasons that the Swiss Franc is one of the most stable currencies in Europe. The prosperous economy makes this a very expensive destination, but despite that, Switzerland should be on the itinerary of any traveler.
Switzerland is truly a destination that you will not forget. Our recent 12-day trip took us on a fast itinerary that included 8 of the most significant cities and regions in the country. The convenient scheduling of Swiss trains, buses, boats and walking tours made accomplishing this memorable trip much easier than doing a similar itinerary in the U.S.
Our visit was scheduled in September, usually the off-season for many of the most popular destinations. We encountered beautiful, sunny weather and, to our surprise, temperatures in the high 70's and low 80's during most of our trip. Our Swiss hosts continually marveled at the unusually beautiful weather for that time of the year. This small country is packed with diversity among its four linguistic regions, each with its own traditions, food and drink. For outdoor lovers, this relatively small country is truly is a gigantic nature park.
Switzerland shares borders with France, Italy, Austria and Germany, as well as tiny Lichtenstein. This results in a country where four languages are spoken, in addition to English. The predominant one you'll hear depends on which area of the country you are traveling. Swiss German is spoken in 63% of the country in north, central and eastern Switzerland; French is the main language of about 19% of Swiss citizens, primarily in western Switzerland; Italian is the primary language spoken by 8% who are mostly in southern Switzerland.
In addition to the other 3 languages, the Southeastern part of Switzerland (about 1% of its population) is proud of a local dialect called Romansch, a combination of several languages. Most of the service personnel that we interfaced with spoke 3 or 4 languages and many could communicate in English. Our basic French was helpful at times, but we also wished we had brought along a German/English dictionary for use in some areas off the beaten path. Nearly everything you need to know before traveling to Switzerland is at www.myswitzerland .com. Excellent links to the various cities, transportation options, destination hotels, etc. are available. Click here to check availability and prices of flights and lodging. Getting Around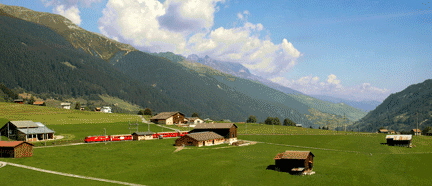 We highly recommend the purchase of a First Class Swiss Pass if you plan to travel within Switzerland, or a Eurail Pass for traveling between (and around) Switzerland and 17 other European countries. The country's railway/bus system is by far the most efficient and convenient method of transportation and the Swiss Pass provides passage on all trains, most city and scenic bus routes and on some boats, as well as discounts to various funiculars (cable cars and cog-wheel trams) and attractions. The "saver formula" offers a 15 % discount if two or more people are traveling together. Children under 16 accompanied by at least one parent travel free in the entire Swiss Travel System with the STS Family Card.

Panorama viewing trips are also a specialty within Switzerland. We were on some of the trains and buses through the country's most beautiful countryside. Part of the Swiss rail system, the routes were designed with scenery in mind. On many of these special panorama routes, reservations are required. Click on the Swiss Pass box below for more information. Check out www.rail.ch/sts for information on the panorama travel.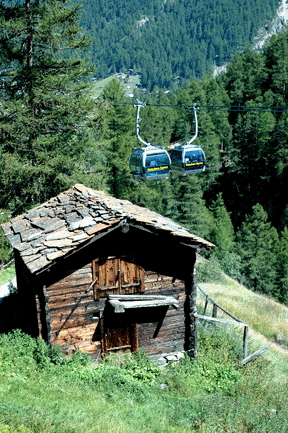 There are few countries more oriented towards enjoying the outdoors than Switzerland. A network of almost 100,000 miles of marked hikes includes easy footpaths, mountain climbing, cultural and theme paths, alpine paths, culinary trails, and more. All are clearly marked with signposts and maps. However, we did find that the Swiss overestimate the physical capabilities of most foreigners who are not as experienced at trekking in the outdoors. Distances and degree of difficulty are to be carefully studied before making a decision. If you are unsure which areas to select for hiking, our suggestion is to concentrate on the Valais and Graubunden cantons of southern Switzerland. They are furthest away from the largest cities and, in our opinion, offer some of the most spectacular scenery throughout.
When you notice the specially-designed train rail cars that transport only bicycles, you know this country caters very well to this popular outdoor activity. There are nine clearly marked cycling routes with 3,300 km crossing the country, and more than 5,000 other regional routes that cater to bicycling enthusiasts of all ages. Explicit route guides are available, most in German or French. A bicycle train timetable contains detailed information on the 56 recommended train, postbus and boat connections. Available in German (Velo und Bahn), and French (Vélo et train) it includes departure times, transport capacity, fares and why it's worthwhile having your bike transported over these stretches. For more information, contact http://www.cycling-in-switzerland.ch. If your main goal is to enjoy the scenery, these special public transport services allow you to conquer the steeper sections and mountain passes effortlessly. That way, even the most difficult routes can be downhill almost all the way!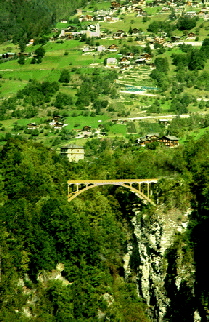 Travel Tips
We found extremely convenient that passengers arriving in international gateways cities of Geneva or Zurich can check in their baggage right at the airport through to their final destination hotel. On our departure from St. Moritz, we checked our two large suitcases at the train station to be stored in Zurich until our arrival 3 days later. We carried enough clothing for only 3 days in our backpacks! One caveat is that you should always make your lodging reservations beforehand as many hotels remain fully booked throughout the season.
There is no state medical health service in Switzerland; therefore, travelers with medical problems are advised to take out insurance against personal accident or sickness. Tap water is perfectly safe to drink throughout the country. We continually re-filled out water bottles, therefore saving on the expense of buying water. If you do purchase drinking water, there is "with gas" and "without gas" so make sure you select the one you prefer. They are often not clearly marked on the label. Tipping is often included in hotel and restaurant bills, although they may not be obvious. If in doubt, you can ask.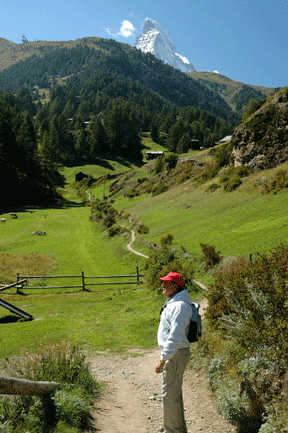 What to wear was perhaps one of the most challenging decisions. If you are planning to travel throughout the country, you will encounter a variety of climates, no matter what time of the year. Check out the weather forecasts for your destination up to a couple of days prior to departure for your best guess. Good walking shoes (or hiking boots) are a must, for even in the cities you will find walking is much easier, convenient and cheaper, than taking a taxi.
Most large hotels offer visitors an electricity converter, but they also offer hair dryers. Unless you plan to iron clothes each day, we didn't find it useful to take our converter. Any battery-operated shaver that can withstand a couple of weeks without a charge is recommended. The official currency throughout the country is the Swiss Franc, but many establishments also accept the Euro. Major credit cards are widely accepted (MasterCard is also called Eurocard), and you'll probably need one!

Read next story