Riviera Maya's Cenotes &Tres Rios
By Larry Larsen
Riviera Maya, on the Yucatan Peninsula adjacent to the longest barrier reef in the northern hemisphere, sits on a cavernous limestone shelf that has an elevation of only 150 feet above sea level. The low elevation and porous limestone allows subsurface water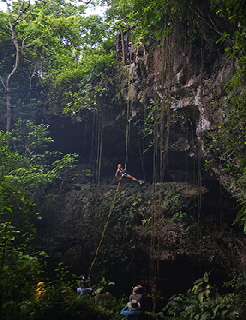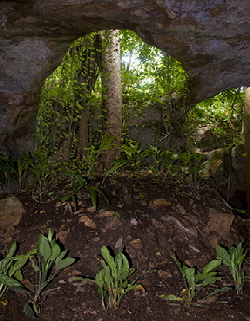 movement through the aquifer. Rainwater easily penetrates the surface and creates erosion and underground deposits as it inspires "hidden" rivers. Over time the rock on the roof of the underground river collapses and sink holes, called "cenotes" by the Maya, were formed.
Today, while you won't find many surface rivers in the Riviera Maya, over 40 exposed cenotes are open to the public. Many have limited or non-existent public facilities and others have extensive connections to deep underground river systems. Some cenotes with great snorkeling, diving and rafting opportunities are incorporated into the natural amusement parks, such as Xplor, Xcaret, Xel-Ha, Rio Secreto, Aktun-Chen, Hidden Worlds and others.

One resort, Hacienda Tres Rios, even has an exclusive-access nature park on property with 10 cenotes where guests can enjoy the awe-inspiring flora and fauna of the region. They offer a Nursery Plant tour, the Jungle Trails Cenote tour and even snorkeling, swimming and kayaking in the Rio Selva that erupts from the spring at Cenote Aguila. Enjoy the sounds of nature and the close up viewing of tropical fish as it winds toward the Caribbean. Take a relaxing float down the beautiful crystal clear, mangrove-lined river

and check out the blue heron nest with chicks that are at eye-level to kayakers!
Three freshwater rivers (Selva, Pajaros and Las Garzas) merge into the sea at the Tres Rios Nature Park which is spread out over 132 acres of pristine tropical rainforest. Check out Cenote Tortuga, Cenote Orquideas and Cenote Manatee, in addition to Cenote Aguila. The cenotes, which are under a strict set of environmental regulations, are home to 120 species of plants and 90 species of animals and are one of Riviera Maya's privately owned natural treasures.
The 273-suite luxury resort with a tranquil one-mile long beach also, lies between Puerto Morelos and Playa del Carmen about 45 minutes from the Cancun international airport. It offers 10 restaurants and bars, 2 giant pools, the Ya'ax Che Spa and many other services and facilities. For
more information on Hacienda Tres Rios, visit www.haciendatresrios.com and www.tres-rios.com. For additional info on the Riviera Maya area attractions and cenotes, visit www.rivieramaya.com.