Tulum & Coba – Mexico's Riviera Maya
By Larry Larsen
The Riviera Maya region on the Yucatan coastline was an important religious and commercial center for the ancient Maya civilization from 1000 to 1550 BC. Today, this area an hour south of

Cancun has 51 all-inclusive resorts with over 18,000 rooms andis an important tourist attraction to Mexico and the state of Quintana Roo. Nearby, Cancun has about 200 daily flights bringing in 3 million passengers annually.
The major historical/archeological draws are two of the most important cities in the Maya culture: Tulum and Coba. Both famous sites offer classical buildings and a unique glimpse into the life and customs of the Maya. And both sites offer a much nicer "visitor experience" than i
s provided at Chichen Itza which lies just west of Riviera Maya; here,crowds of illegal vendors are scattered all about the grounds following visitors to make a sale. You won't even find crowds of tourists when you visit early in the morning.
Tulum - The well-preserved city of Tulum (called "Zama" meaning city of the dawn), with its 60 buildings surrounded by 3 massive fortified walls, is the only known walled archaeological site located on the sea. The small beach beside the main temple offers a unique background to enjoy the mastery of the ancient Maya architecture. The mysterious city's stone carvings represent the solstices, equinoxes and movements of the sun.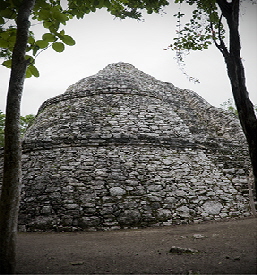 The spectacular Castle on the edge of the cliff is the most significant building in Tulum. The Temple of Frescoes is of great religious importance, as is The Temple of the "Descending God" which symbolizes the setting sun. The Temple of the Wind sits on a semicircular pyramidal base on the cliff opposite the small cove. Other interesting structures linked by flat gravel paths are House of the Cenote, El Palacio, House of the Columns and the house of the Chultun. The entire site is wide open (not in a dense forest) and it is easily accessed by visitors. The beautiful seaside location adds to the unique experience.
Coba - Five cenotes (Coba, Macanxoc, Sacalpuc, Yaxlaguna and Xcanh) and small lagoons dimple the heavily-dense forest around the Coba site. Ancient, worn stone pyramids sit beside thousand year old causeways in humid, still air beneath the surrounding canopy. The enveloping jungle and complex network of roads makes this ancient city unique on the Yucatan Peninsula. A network of 45 roads connects the city's architectural groupings to each other and to other communities that were once under its domain.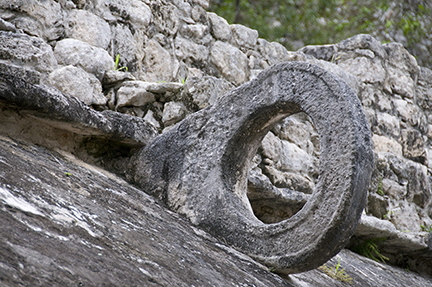 Stelae and hieroglyphic texts, along with the monumental buildings make this splendid site distinctive and interesting to visit. The Nohoch Mul (large hill) pyramid is composed of 7 round cornered platforms and at almost 140 feet is the tallest structure on the peninsula. Juego de Pelota and Macanxoc known for its 8 stalae and monolithic altars are two other groupings within the city. The Ball Court lies north of the Church in the Coba Group and is adorned with images of human skulls and hieroglyphic inscriptions.
Editor's Note: For more information on all these great Mexican Caribbean attractions, visit www.rivieramaya.com.