l

Train travel is certainly not common for most Americans. In our rush to get there, we prefer to fly whenever possible. While convenient, this sometimes prevents travelers from enjoying the often unique things that can be found "in-between" the start and the end of a trip.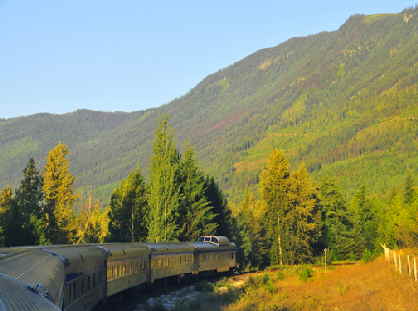 So when we selected Canada's Jasper National Park (see related article) as a destination, we chose to travel overnight by train as a new and different way of enjoying the "in-between" from Vancouver to Jasper. All we can say about this trip through the Canadian Rockies is WOW!
Canada's VIA Rail offers 10 different routes, but The Canadian is the only one with Amtrak connections to the U.S. in Seattle, Chicago, Detroit and New York. This makes it convenient for folks living in those cities, but we chose to fly to Vancouver and take The Canadian to Jasper because we were told this was the most scenic section of the trip. Absolutely.
VIA Rail adjusts its schedules a bit during the summer to accommodate the tourist season. The train is not in a particular rush and often departs (or arrives) off schedule because it takes its time along the way. That was fine with us, as we were in no hurry and wanted to enjoy the scenery and the experience.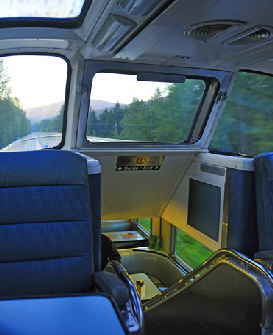 After arriving in Vancouver, we took a short taxi ride to the Pacific Central train station. This historic building was restored to its original grandeur after VIA Rail took it over in the late 1970's and its ambiance takes you back to the days of original luxurious train travel. We checked in for the "Silver & Blue" class which included bedroom accommodations and meals. Once we boarded the train, we were greeted by our attendant and given a preview of dining times, attractions on the way, etc.
We found our bedroom small but comfortable, and although we spent little day-light time in it, space was cramped for our two small suitcases. Therefore, we would recommend that you check your luggage and bring onboard to your cabin only what you will need for an overnight stay.
Touring the train was interesting. There were at least 30 railcars with various accommodations, and three Skyline cars with 360 -degree glass-top ceilings for maximum enjoyment of the scenery. An activity coordinator was assigned to several cars and they maintained entertainment options such as games, books, snacks and other amenities in the Park cars.
We had selected early dining and did not know quite what to expect, but we were not disappointed. Dinner was served in a stylish dining car with china, silverware and linen. The four-course evening meal included soup selections, salad and several entrees - Steak, Salmon or Chicken - prepared in a variety of ways. Desserts were difficult to ignore! Similar to a cruise, you could select a bottle of Canadian wine and have it available at dinner each night. Breakfast and lunch were similar in quality and quantity.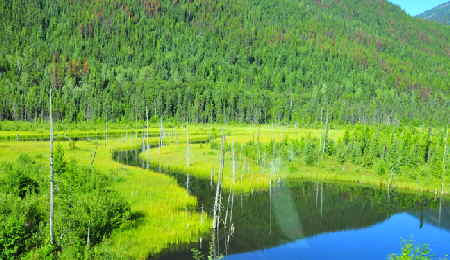 But we were on board for the scenery and, again, we were not disappointed. We were fortunate to travel on one of the most beautiful weeks (weather-wise) that the area had experienced. We were amazed at the quiet and smooth ride the train offered. Throughout the ride, the activities coordinator would announce an upcoming sight on the public address system which gave us time to prepare for the eventual photography. But don't wait for the announcements. We noticed an "unannounced" deer in a gorge below the tracks on one curve!
The train headed east tracing the North Thompson River toward Kamloops and then north through the Monashee Mountains and the Rocky Mountain trench. The journey took us past many lush forests and spectacular mountain peaks. The number of scenic points during the 1 ½ days were numerous! Moose Lake, with the Rocky Mountains as a backdrop, was certainly breathtaking. Mount Robson, the highest mountain in the Canadian Rockies, offered a cloud-less, spectacular view for which the train slowed down to make sure we had time to take it all in. Yellowhead Pass, the border between Alberta and British Columbia, was impressive, as were the glaciers and glacier-fed lakes that appeared as we went deeper into the Rockies.
"At this time of the year we become a tourist train, 80% of our business is tourism," explained Maurice Desaulniers, a VIA Rail Canada Service Manager for over 30 years.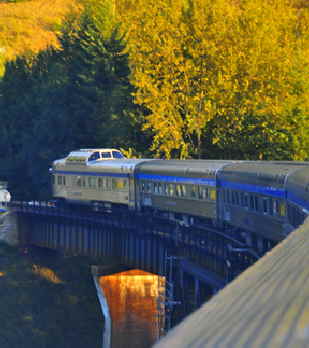 We were still on Florida time, so we returned to our guest room at 8pm (11pm Florida time) and found the two berths had been readied for us. While the bunks were a little tight for Larry due to his 6-foot 2-inch frame, I was amazed at how easily I fell asleep, despite the far-off noise of the tracks. The train was much quieter than we expected.
We arrived in Jasper the following afternoon a little behind schedule (see related article). After our five day stay, we once again boarded The Canadian to continue on the last part of our train journey. This 5-hour leg did not include an overnight stay but it was still nice to have the privacy of a cabin to store our luggage and relax in the comfortable chairs. The scenery changed from mountains to the Canadian plains about one hour east of Jasper. Farmland and small towns were much more prevalent then.
We met many international visitors on the train, including some from England and Australia. Some of them were traveling the entire route from Vancouver to Nova Scotia (7 days), while others were on board until Winnipeg, 1 1/2 days away.
Depending on the length of your trip and how comfortable you want to be, there are a variety of accommodations. However, all shower facilities are public since no accommodation offered a private shower. The six types aboard our train were Coach, Upper Berth, Roomette, Bedroom, Drawing Room, and Bedroom Suite.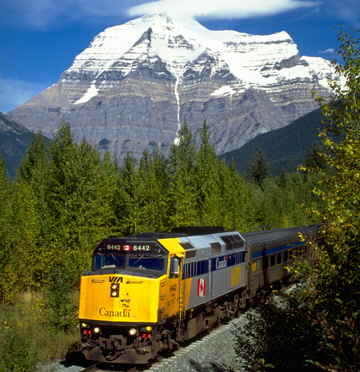 The Coach Seat is just a reclining seat with full-length leg rest. The Upper and/or Lower Berth are open seats by day and make up into berths for night use with a curtain to provide privacy from the hallway. The Roomette is a private room with one berth that folds into the wall by day and includes a sofa seat, a wash basin and toilet, which is ideal for one person. We enjoyed the Bedroom accommodation which is a private room with two berths (upper & lower) that fold away at night. It includes two chairs for daytime use, a private wash basin and toilet.
The Drawing Room is a more spacious self-contained accommodation with disappearing upper and lower berth and full length sofa which converts to a berth at night. It includes two chairs and the sofa for daytime use, as well as a wash basin and toilet. The Bedroom Suite is actually two adjoining bedrooms with a partition removed to make this a large room with two lower berths and two upper berths. It offers four chairs.
VIA Rail Canada, the country's national passenger rail service was created in 1977. Our journey aboard with its ever-changing Canadian landscape passing by will always be remembered. For more information on or reservations for this very enjoyable Rocky Mountain experience, contact 1-888-842-7245 (in the U.S.) or visit www.viarail.ca. In Canada, phone 1-800-872-7245 for reservations and more details.