Riviera Maya Mexico Xcaret, Xplor & Xel-Ha
By Larry Larsen
From the highway, or even the parking lot, it is easy to underrate all 3 of the main "Activity-Fun" Tourist Attractions that lie just 35 miles south of Cancun in Mexico's Riviera Maya. My perception

of what was behind the trees and tall stone walls was lackluster. But once inside, I was overwhelmed with the breadth of exciting options for adventurous park visitors. What they have developed at Xcaret, Xplor and Xel-Ha around their natural geography and unique landscapes is awesome and inviting to people of all ages and demeanor.
Xcaret – The 200-acre seaside park, whose name means "Small Inlet", is a 22-year old attraction that celebrates Mexico's natural and cultural richness. Xcaret gets over one million visitors a year that enjoy their amphibious vehicles, raft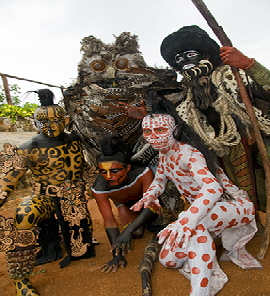 circuits, zip line splashdowns and underground stalactite river swims. More than 40 separate attractions within the eco-archeological park and a map rival any man-made attraction in the U.S. Visit the coral reef aquarium, butterfly pavilion, Mayan village, archaeological zones, jungle trails, wildlife breeding farm, or horse exhibition, or spend time safely admiring the wide Mexico animals that include jaguars, tapir, macaw, toucan, crocodile, sea turtles, flamingos, spider monkeys, deer, etc.
Xcaret has numerous events and festivals to commemorate Maya times throughout the year. They also frequently offer an impressive "Mexico Espectacular" show with 260 performers in their Gran Tlachco Theater, Maya dancer presentations and even cultural rubber ball games (Pok ta' pok) on Maya courts. And did I tell you about their fantastic Mexican buffet? They have a special Second Day Pass for half price and this is a deal you won't want to pass up!
Xplor – This 3-year old all-inclusive adventure park spread over and under 150 acres of 65 million year old sinkholes, caves and caverns offers fun ventures into amazing surroundings. Suspension bridges, 150-foot high zip lines, 4-wheel drive ATV off-road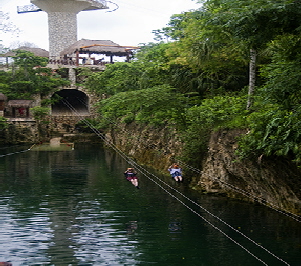 experiences (through 8 caverns) and solo and 2-person balsa raft rides all incorporate the unique, natural underground world, and in fact, most activities above ground end up in the water or in a magnificent cenote that might be dry or very wet. This Quintana Roo jungle experience may start one of their many circuits above ground but you'll need their required hardhat, water shoes and bathing trunks to traverse their massive prehistoric caves and stalactites/stalagmites.
They call this an "all-weather" adventure because you'll probably be wet a lot. Swim 437 yards along a primitive underground river; this really cool place surrounds their logistic landmark, a huge "pulsing heart" that beats like a drum right in the center of their caverns. The park provides lockers and dressing rooms, life jackets and hand paddles. You'll need to use chemical-free sunscreen in the park, which they have for purchase. This captivating place with "more than 2 miles of fun" is for the adventurous beyond the surface!
Xel-Ha Park – Xel-Ha, which means "Where the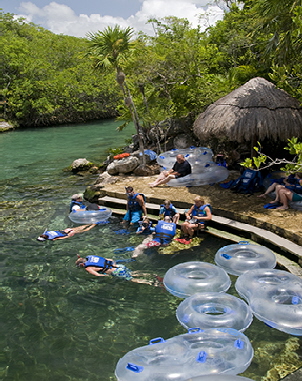 water is born," is an 18 year old attraction that lies 68 miles south of Cancun. It is spread over 180 acres, of which 35 encompass various bodies of water where visitors can go tubing, snorkeling, swimming, petting stingrays, jumping off cliffs, swimming in caves and cenotes and in an open-sea aquarium. It is here where the mouth of the longest underground river in the world can be found. Snorkelers can start off in the spring with mask and fins, use a large inner tube and/or life jacket to venture down the river into the marine forest, cenotes, grottos and multicolor rock outcroppings and reefs.
You'll find a walking rope over water, swing ropes, cliff climb, bicycles, plant nursery walk and a zip line to further wear you out if needed and a great restaurant and beach hammocks to regenerate that lost energy. Swimming with the dolphins is one of several optional additional cost activities. The Maya considered this area to be an element of renewal and rebirth where Shaman (priests) led purification ceremonies. While there are plenty of land and water activities, this is for the active visitor that loves water!
Editor's Note: For more information on all these great Mexican Caribbean attractions, visit www.experienciasxcaret.com and www.xcaret.com.