BW2 - Larry Larsen's Guide to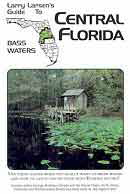 Central Florida Bass Waters
by Larry Larsen (ISBN 0-936513-19-5)
Fishing pressure is more focused on Central Florida than on waters in any other Florida region. Opportunities are spread out over more water in terms of diversity and geographic coverage. This book effectively highlights the region's best and overlooked lakes, rivers and creeks, from Tampa and Orlando to Palatka. Includes Lakes George, Rodman, Monroe, Panasoffkee, Tarpon and the Harris and Clermont Chains, the St. Johns, Oklawaha and Withlacoochee Rivers, the Ocala Forest, Crystal River, Hillsborough River, Conway Chain, Homosassa River, Lake Minneola, Lake Weir, Lake Hart, Spring Runs and many more!
The book is an excellent resource for trip planning, seasonal information, water characteristics and other necessary details that make a bass fishing trip less of a guessing game. The book lists specific productive locations on each of the waters covered and effective techniques that the author and others have employed. This detailed book includes dozens of photos, and maps and charts with information on boat ramps. There's no doubt this book will make your fishing trip much more productive!
Sample chapter
BW3 - Larry Larsen's Guide to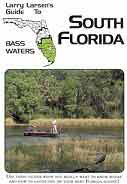 South Florida Bass Waters
by Larry Larsen (ISBN 0-936513-20-9)
An excellent resource for trip planning in the region from the top fresh waters of Brevard County on the East Coast through Osceola and Polk counties to Manatee on the West coast and South to the sawgrass canals of the Everglades. In it, you'll discover the best specific areas to fish, secrets of fishing each water, best techniques, lures and baits, for largemouth, peacock and striped bass, maps, launch ramps and water details as well as hundreds of "overlooked" bass waters in the region. A comprehensive index includes a cross reference of lakes, rivers and creeks, over 60 photos/maps/illustrations, bass species and fisheries information, and city and county references that will help anglers quickly locate and review each hotspot.
Coverage: From I-4 to the Everglades including Lakes Tohopekaliga, Kissimmee, Okeechobee, Poinsett, Tenoroc and Blue Cypress, the Winter Haven Chain, Fellsmere Farm 13, Caloosahatchee River, Lake June-in-Winter, the Everglades, Lake Istokpoga, Peace River, Crooked Lake, Lake Osborne, St. Lucie Canal, Shell Creek, Lake Marian, Lake Pierce, Webb Lake and many more! Make your next fishing trip a success!
OT3 - Fish & Dive Florida & The Keys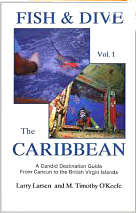 by M. Timothy O'Keefe & Larry Larsen (ISBN 0-936513-26-8)
This candid travel destination guide is an honest fishing and diving appraisal of Florida's fresh water springs and coastal waters including the Keys, Gold Coast, Middle Atlantic, Upper Atlantic, Lower Gulf, and Upper Gulf. A detailed index, numerous photos, and tourism contacts are included. This comprehensive book features artificial reef loran numbers, fresh water springs and caves, inshore flats and channels, reefs and barrier islands, back country estuaries and gulf stream passes. You'll find expert tips on the most productive fishing grounds and the most interesting dive locations in Florida. Don't gamble your money on any fishing or diving vacation in Florida until you've read this book!
Comprehensive tables in each fishing chapter reveal the most common species that are caught each season. Each handy table should be used as a guide to pre-plan a trip after the most common species available then. Information in the text will often elaborate on the opportunities in each region. Underwater, Florida's regions are vastly different from each other. It's been said Florida is really three separate states- - The Panhandle, Central Florida and South Florida--combined into one. The book clearly describes the diversity of each region and provides helpful trip-planning tips.
Sample chapter
FG1 - Secret Spots - Tampa Bay to Cedar Key
by Frank Sargeant (ISBN 0-936513-28-4)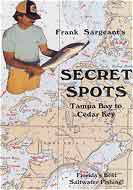 Covers Hillsborough River and Davis Island through the Manatee River, Mullet Key and Suwannee River. A unique "where-to" series of detailed maps of secret spots for Florida's finest saltwater fishing, the carefully-guarded hotspots of the pros. More than $100 worth of detailed and personally-marked NOAA topographical charts are included! A comprehensive index helps the reader to further pinpoint productive areas.
Whether you enjoy snook, redfish, trout or tarpon fishing, like to search out the bottom-dwelling grouper and snapper or chase the open-water speedsters like Spanish and king mackerel, this guide book gives you a close-up look at the hundreds of little-known honey holes and tells exactly how to fish them. The text includes prime seasons, baits and lures, launching areas, marinas and more. Special features include how to find gamefish in winter, spring, summer and fall, and how to use tides to your advantage.
FG2 - Secret Spots - Southwest Florida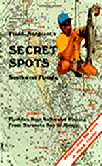 by Frank Sargeant (ISBN 0-936513-36-5)
Covers from Sarasota Bay to Marco. Sargeant shares his knowledge of hundreds of outstanding locations for snook, tarpon, redfish, trout, pompano, flounder, Spanish mackerel and many other species. More than 30 detailed NOAA topographical charts worth over $60 will help you find the right depths, the oyster bars, the grass flats and the hidden reefs. You'll learn of hundreds of little-known honey holes and exactly how to fish them. The text includes prime seasons, baits and lures, launching areas, marinas and more. (Only a few copies available!)