LB1 -
Larsen on Bass Tactics
by Larry Larsen (ISBN 0-936513-27-6)
This ultimate "how-to" book focuses on proven productive methods and is dedicated to serious bass anglers who are truly interested in learning more about the sport. Hundreds of highlighted tips and line drawings are excellent visual guidelines that explain how to catch more and larger bass in waters all around the country. Thirty comprehensive chapters and "bulleted" facts include: suburb bassing, floating plant strategies, playing the temperature game, whipping the wind, and escaping fishing pressure. Also check out the following coverage: How to catch more bass from aquatic vegetation, including developing a systematic approach to fishing submerged, emergent and surface canopy thickets. Finding and catching bass in deep waters during the cooler months and in clear waters throughout the year. Clues on bird traffic reveal how they relate to bass locations.
Also included is how to fish heated waters, how fronts affect such waters and specialized clarity-specific lure tactics. Small water tactics are covered in detail, such as the best ways to locate bass in ponds and creeks, the right craft and boat positioning, ultralight and finesse spots. Several productive techniques for drifting and trolling are highlighted, including anchor use and dragging, speed variations and repeatability, and proper sizing of the bait and line. The most productive methods for wade fishing and belly-boating include a detailed treatment of map consultation, tactics on lure presentations from the lower-profile position and safety points. Numerous other topics are included, such as specialized tactics for boathouses, runoffs, adverse weather, inactive bass, and fluctuating water chemistry and temperature characteristics. The hundreds of highlighted steps, tips and tricks are applicable to bass in waters all around the country. This reference source by America's best known bass fishing writer is invaluable to anglers!
To check out the table of contents, click here, and remember to hit the page back button to order.
BSL8 - Angler's Guide to Bass Patterns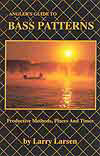 by Larry Larsen (ISBN 0-936513-07-1)
Being able to develop a pattern of successful methods and lures for specific habitat and environmental conditions is the key to catching several bass on one fishing trip. Understanding bass movements and activities and the most appropriate and effective techniques to employ will add many pounds of "enjoyment" to the catch. This book examines the most effective combinations of lures and methods to catch active and inactive bass. The book is a reference source for all anglers, regardless of where they live or their skill level. It examines the most effective combinations of lures, methods and places for a variety of environmental conditions. The productive and proven techniques to catch both active and inactive bass are discussed. The chapter coverage includes: Lure Perception; Boat Positioning; New Water Strategies; Deep Water Concepts; Buried Bass Discoveries; Weedline Patrols; Vegetation Tactical Moves; Brushy Escapes; Dockside Duty; Tactics On The Rocks; River Revelations; Foaming Water Fairs; Open Water Tactics; Wicked Wind And Weather; Seasonal Transitions; Inactive, Structure-less Bass and more.

BSL3 - Bass Pro Strategies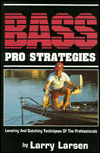 by Larry Larsen (ISBN 0-936513-01-2)
Professional fishermen know how changes in pH, water level, temperature and color affect bass fishing, and they know how to adapt to weather and topographical variations. You can learn from their experience to develop a sound strategy to plan a productive fishing trip. The book reveals the proven methods that the country's most successful tournament anglers have employed to catch bass in competition. Special features include mapping and eliminating unproductive water, locating extremely deep and shallow bass, boat placement, topographical techniques and water chemistry influences. The reader's productivity should improve after spending a few easy-reading hours with this compilation of techniques!

BSL6 - Bass Fishing Facts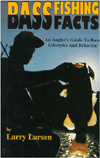 by Larry Larsen (ISBN 0-936513-05-5)
Productive bass anglers are those who can relate the facts of fishing to the current conditions. They utilize their knowledge to determine the activity level of the fish, its most likely location and the most effective bait and presentation. Wise anglers study bass under various conditions and then apply that information to the on-the-water experience. This valuable reference source is an angler's guide to the lifestyles and behavior of black bass. It examines largemouth bass behavior during pre- and post-spawn as well as during the bedding season. It explores bass senses, foraging motivators and their behavioral response to environmental factors. The "cline" family and its relationship to active fish locations and the usage of "flash" colors are explained. The information also includes habitat and behavioral aspects of other bass species such as redeye, Suwannee, spotted, etc.

BSL9 - Bass Guide Tips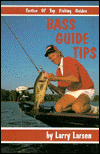 by Larry Larsen (ISBN 0-936513-10-1)
Those who make their living taking clients to the best bass fishing spots are not eager to share their secrets. Learn the techniques that Larsen has learned from years of writing and fishing with the nation's most successful guides. Many of the guides mentioned in this book are "trophy specialists" while others are simply "bass guides" who catch lots of largemouth. Some of the guides are professional tournament fishermen, some guide on many waters and others are committed to just one lake. Sometimes, the techniques are regional, but they frequently work in waters all around the country. All are excellent anglers and professional fishermen dedicated to providing the best service to their clientele. You can apply what the country's top guides know!
"Bass Guide Tips" is a reference source for all anglers, regardless of their skill level. It has been written as an informational guide for outlining specific approaches to catching more and bigger bass. The chapter fare includes in SECTION I - LURE & BAIT TACTICS: Shiner Man's Secrets, Jig Flippin' Advice, Tips From Wormin' Country, "Dead Lure" Counsel, Rattlin' Vibrations, Jerk Bait Strategies, Sunfish Kite Tricks, and Fly Fishing Prescriptions. In SECTION II - CONDITION TACTICS, you'll find: Moving Water Techniques, Deep Water Lessons, Hot Water Pointers, Cold Water Pointers, Tough Time Reports, Stormy Guidance, Tide and Moon Indications, Observations Around You, and Biological Observations.
Sample chapter