DL4 - If I Were a Manatee -
A Coloring/Activity Book
by M. Timothy O'Keefe (ISBN 0-936513-50-0)

Do you know how much a baby manatee weighs? How long manatees live? How much they eat every day? Or how fast they can swim? This is an educational and entertaining book -- through its charming story, mazes, word games, spelling challenges, riddles and more, the fact-filled IF I WERE A MANATEE reveals many interesting aspects about the loveable mammals. Every young reader from ages 5 - 12 will enjoy this coloring and activity book. Only a few left!
DL2 - Manatees - Our Vanishing Mermaids
by M. Timothy O'Keefe (ISBN 0-936513-43-8)
The comprehensive, photo-intensive book is an in-depth overview of nature's strangest-looking, gentlest mammals who are among America's most endangered. Readers will enjoy learning more about this strange-looking, gentle

creature which served as the basis for the mermaid legend. Manatees inhabit the Southern Hemisphere and are easiest to find in Florida. The book covers eight Florida locations where families can see manatees in the wild while diving in freshwater springs or nose-to-nose in captivity at some of the nature attractions, why manatees may be living fossils, their unique life cycle, and much more. The book is a compendium of information on growth, breeding, habits, etc. and reviews the manatee rescue and survival programs in Florida, the only state with a resident population of the endangered animals.
Beginning in the early 1970's, O'Keefe was one of the first wildlife photographers to bring attention to the dangers faced by the manatee. Its future is still uncertain due to the wholesale destruction of its coastal grazing and breeding grounds. The accomplished author and underwater photographer was awarded special recognition by the Florida Audubon Society for his continuous educational efforts. More than 80 photographs of manatees in their habitat and a delightful photo essay of 15 pages offer exquisite underwater views of this mammal's feeding manners and morals.
DL3 - Sea Turtles - The Watchers' Guide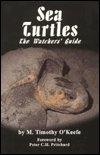 by M. Timothy O'Keefe (ISBN 0-936513-47-0)
Illustrated with over 100 photos and line drawings, this book not only gives an excellent overview of sea turtle life, it also provides the specifics of appropriate personal conduct and behavior for human beings on turtle nesting beaches. Details on how to identify several species of sea turtles, a turtle nesting log, and where and when to observe nesting sea turtles are included. Outdoors lovers with an interest in nature should sooner or later watch a nesting turtle. The attractiveness of this spectacle has increased the demand on the more popular organized turtle walks. The book includes the most popular guided turtle watch walks ... put your name down and you will be moved by what you see. This is the most definitive resource published for avid and amateur turtle watchers. Foreword and some illustrations by renowned sea turtle expert Peter C.H. Pritchard. (Only a few copies available!)