Going Soft for Unini's Peacock Bass
Soft plastics entice giant peacock bites on Brazil's Rio Unini
By Larry Larsen
It had been one of those long hard fishing days, where perhaps 800 casts of the large topwater plug resulted in just two fish. Light rain off and on, higher water than prime, and a dense cloud cover prevented most fish from warming up enough to feed that day. My two peacocks were big, 12 and 14 pounds, and I was tired. My partner, Bill Smith, a restaurateur from McKinney Texas, and I had given it our all, to little avail.

With 30 minutes left to fish, the sun had finally poked through the rainclouds as we arrived at a small lagoon near our repositioned houseboat, the Amazon Explorer. It was time for a change in tactics, I concluded, as I tied on a soft-plastic Banjo Minnow. The minnow-shaped bait is positioned - or more precisely, screwed - on a coiled wire that is hanging off the curve of a 3/0 Kahl-type hook. The lightweight rig is difficult to throw on baitcasting tackle and 80-pound test, but I needed a break from the 1 1/2 ounce chopper I had thrown all day.
Once rigged, I tossed it along the brushy lagoon edge of the irregular shoreline. My casts splashed down some 10 feet or so from the tree-lined edge of what would normally be the bank at lower water. I was twitching it along in the black, tannin-stained water, watching it dart to one side, then the other, when the flash of a broad gold and black shape interrupted my retrieve.
I lowered the rod tip on the strike and then set the hook on the upswing. A giant peacock, mad as all get -out for mistaking my fare for forage, put up a rambunctious battle. It pulled drag three times and jumped twice as it did its best to dislodge the hook. I hung on as the peacock cavorted about the small arm of the lagoon. In a couple of minutes, it was over. We quickly weighed the fish and placed the beautiful 16-pounder back into the dark waters.
"Want to try one of these soft-plastics?" I asked my partner, who had taken an 18-pounder on his favorite topwater plug the day before.
"No," Bill replied. "We just have a few minutes left today. But if you catch another real fast, then I may switch."
Two casts later, I watched my bait provoke another strike, and Bill did too. Watching the flash and boil of a fish as the lure moves along about one foot below the surface is exciting. The fish boiled on the bait. I dropped my rod tip and then came up with the rod to set the hook. This time, however, the hook pulled free. I missed the fish, but my bait was intact.
"Maybe, I'll put one of those on now," my partner laughed.
While our guide dug for a hook and the plastic bait, he moved the boat forward slowly with the aid of the remote trolling motor controls. Three casts later, just as Bill was getting ready to loft a cast of his own, I twitched my bait twice and again saw the 'take.' I dropped the rod tip, then came up with it and connected this time. The big fish took to the air and then headed into the brush pulling drag.
I stopped the fish from swimming into that entanglement, and it turned to head for another fallen treetop. My drag gave as the peacock swam into and luckily, out of the brush. From then on the battle was on my terms. We weighed the 13-pounder and released it. I noticed the hook had been bent outward from the power of the fish and needed replacing. The skies were getting darker.
"Encampamento?" the guide queried. "Sim," I responded.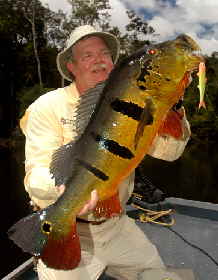 The soft plastic bait rig had helped salvage a very slow day for us. I had not picked the bait up by accident however. My partner the previous day, fishing tour outfitter/agent Don Cutter, had told me of the effectiveness of the Banjo Minnow baits on peacock bass in the higher water conditions. In fact, the owner and operator of PeacockBassTrips.com went as far as to show me when he caught a 16 pounder and several smaller peacocks on one. My largest that day on my Woodchopper was a 14 pounder.

While the topwater bite was slow early that week, I and others had taken a few decent-size fish on minnowbaits, jigs and smaller fare. But few other guests had yet to use the soft plastic bait for success. After that day, my arsenal changed to include more tosses of soft plastics. Others in camp were told of the "pattern" as well and started to employ the bait more frequently in the flooded tree conditions.

The following day's fishing was relatively slow with overcast conditions once again minimizing the action, but the final morning's sun filled the Unini watershed with promise. I was fishing with "gringo" Bob Mathews, from Louisville Kentucky, and he was still in need of catching his largest peacock ever. With three 16 pounders to his credit on previous trips to peacock land, the mark did seem insurmountable. We both employed the Banjo Minnows that day about 50 percent of the time.

We landed several small peacocks on the soft plastics early and I garnered a 13-pounder about 9 am and Bob had a 12 pounder shortly thereafter. Then at 11:15 am, I threw my soft plastic toward a non-descript spot at the intersection of two arms of a small lagoon and a giant boiled on it. I set the hook and battled a giant for 3 or 4 minutes before Jo-Jo put the lip grabber on it. It weighed 17 pounds.


Just 15 minutes later in the same lagoon called "Piraracu", I tossed to another spot and had a huge boil on the twitched bait. I set the hook again, and the fish yanked the rod tip down and pulled drag for 25 feet.

"Cast behind my fish," I shouted to Bob, who was fully aware of our "team" approach to garnering a few "doubles". He did so with his Banjo Minnow and hooked up with an 8-pounder. While his fish came in rather quickly and was released, my had other things on its mind.

On three more occasions, the giant peacock bass pulled drag from my casting reel as it saw the boat. I noticed that the fish was long and wide as it struggled in the black clear water. I carefully brought the fish to the boat, and it tried to swim around both motors on opposite ends of our craft. Soon, Jo-Jo had a grip on the fish and weighed it at twenty and one-half pounds. A beautiful fish, it was my twenty first over 20 pounds, and part of a nice double!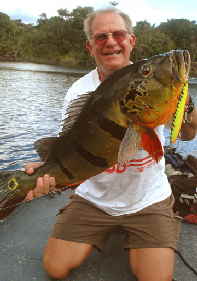 About an hour later, we moved to another location and had a second nice double. Bob had cast a High Roller to a partially-submerged sandbar right at the mouth of a lagoon off the main river channel when the monster struck. As the battle raged, I tossed a big Woodchopper in behind Bob's fish and hooked up myself. My fish weighed 10 pounds even and Bob's pulled down the scales to 18. It was a new personal best for him. The 28 -pound double was further proof of my "team approach" to maximizing the catch.

Bob also caught a 13-pounder that day on his Banjo Minnow plastic baits, and we ended the good, sunny day with 14 peacocks, seven of which were big fish!

I only caught 30 peacocks that week, but the catch included 15 over 10 pounds. I had 7 teeners (fish between 13 and 19 pounds) and the one over 20 pounds. Five of my giants were caught on the soft plastics. Our group of 5 anglers caught 154 fish with 27 over 12 pounds during the week.

I had two interesting fry ball experiences during the week in early February. On the second day, after throwing a variety of baits at the "bubbles", as they are sometimes called, with no success, my guide Jo-Jo handed me a Zara Spook. I tossed it just behind a fry ball and started "walking" it back through the fry when the 15 pounder exploded on it. A valiant fight preceded its BogaGrip landing, weighing and quick release.

A day later, my partner and I had cast giant surface baits in unison to another fry ball. I had my plug back to the boat when a big fish boiled on my partner's topwater bait missing it. I was in the process of reaching for my "comeback" minnowbait, when another big peacock free-jumped about 20 feet away from the spot of the fry ball and my partner's boil. The 12-pounder jumped straight upward coming out of the water about two feet. I quickly cast to the fish that had given itself away, and it struck my lure. I landed that fish and considered myself lucky. I would not have initially cast that far from the other activity, unless I had seen the fish first.

Another interesting strike occurred on day five while my partner, Louisville broker Mike Scheid and I were casting lures at a giant piraracu. The fish that must have weighed 200 pounds or more surfaced about 15 times in a 50 to 100 foot wide area over a period of 30 to 45 minutes. Each 2 or 3 minutes, the giant fish would roll on the surface, and I wanted to catch it badly. The trick is often getting a deep-running lure to the fish that shows itself quickly and then slowly reeling the bait to entice the strike.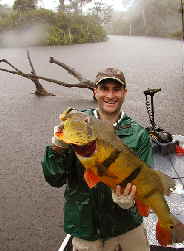 The piraracu showed itself once and I hard-cranked a Magnum Rat-L-Trap back to the boat to quickly fire off a cast toward the fish. But the lure was stopped half-way back. I set the hook expecting another piraracu, but the fish wasn't as outsized as I had hoped. A 12 1/2-pound peacock bass had slammed the lure, and after a short battle, I landed and released it. Scheid, who had caught a 21 pound peacock on his first day ever fishing for them earlier that week, was impressed. He and I had lunch under a shad tree near the bank and continued to see the antics of the giant piraracu that remained forever elusive that day.
A couple of interesting sites were the two Tua' peacock bass that I caught. They are shaped like the others but sport three small V-shaped black bars at the top of their dorsal and back and have black horizontal swatch extending beneath their pectoral fin area. I've caught the rare species in Brazil's Madeira watershed where they call them "po po". (The "Sara Biana" peacock are similar but have 2-3 more smaller v's along the dorsal, I'm told) . We also came across 3 giant capybaras on sandbar as we rounded a bend; they scampered into the lagoon swamp, across the 20 feet of water and then disappeared into the jungle.
For more information on peacock bass, check out www.peacockbassassociation.com or visit our book store for special savings on four peacock bass books!